Much like the title indicated, I've missed Bill Hodges.
Unfortunately, Mr. Mercedes Season 2 Episode 1 didn't do much to arouse much excitement at his return.
In propelling the written word forward and skipping one of the books in Stephen King's trilogy, they maintained the core duo of Brendan Gleeson and Harry Treadaway at the cost of smooth storytelling.
Before the end of Mr. Mercedes Season 1, Bill was already out of the hospital, but "Missed You" picked up with the adversaries being rushed to the same hospital to introduce new characters Felix and Cora Babineau (Jack Huston and Tessa Ferrer) who have become an important part of the narrative.
Dr. Felix Babineau is the neurosurgeon who put Humpty Brady back together again in a particularly gruesome reconstruction scene.
The husband and wife duo aren't to be meddled with as Cora sees in Brady the opportunity for fame and fortune in the pharmaceutical industry.
It's one of the more confusing plot devices because I can't quite figure out why Brady is such an exceptional candidate to be a guinea pig for their breakthrough drug.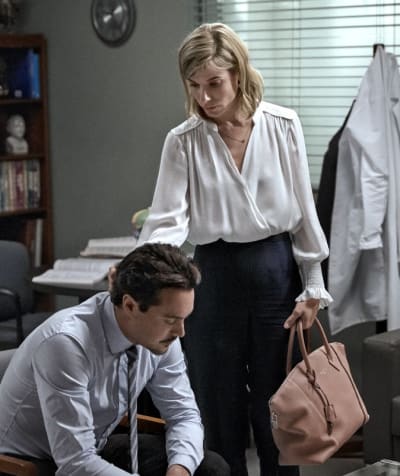 From an investigation perspective, it makes some sense that the prosecution would want Brady to reawaken so they could prosecute him to the full extent of the law. It's the ol' wake 'im up so we can kill him scenario.
Related: Carissa's Corner: We Need to Talk about Our Reboot Problem
On the other hand, if big pharma were looking to make a dramatic impact with their drug with a sensational story to fast track their drug to the front of the FDA approval lists, Brady hardly seems like the right guy for the job.
Cora: Brady Hartsfield is a GORK, yes?
Felix: Yes.
Cora: So what's the problem here?
Felix: He's a human being.
Cora: Felix, Brady is a monster out of fairy tales that you would only tell children you hate.
That's hardly a compelling reason to wake up a guy in a coma, right? And no matter how long and hard Cora talks, what comes from her lips doesn't make the hard sell.
He's the most reviled man in the history of this town. You need to give him the full dose.

Cora
Um, yay?
Is there a cheerleading squad somewhere with pom poms and a "wake 'im up, wake 'im up, allll the way up" chorus happening for the guy? It hardly seems plausible. 
Related: Mr. Mercedes Season 1 Episode 10 Review: Jibber-Jibber Chicken Dinner
As a result, right off the bat, Cora is the new nasty and becoming a casualty of the monster she creates would be a highlight of the season should it occur. Threatening her pregnancy if Felix didn't find a way to keep Brady and pump him full of the drug was only another level of deplorable.
The whole time they were plotting to bring Brady to life, Bill was wishing him dead. Unfortunately, he lost another close friend instead.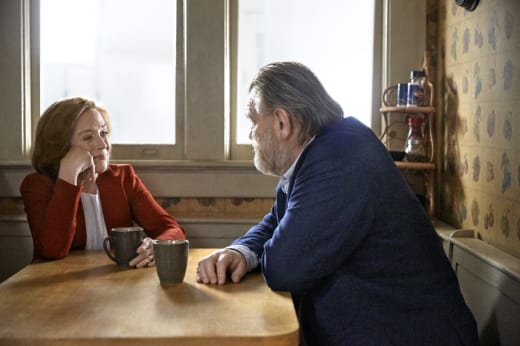 I'm glad Ida is back as his snarky neighbor with a heart of gold. Unfortunately for Pete, assisting with Bill's good deed for his neighbor meant death for him. 
I thought the supernatural effect had already gone into play, but Pete's heart just gave out. If it hadn't gone out during the premiere, there would have been very little else to do.
The material for Bill and Holly was dry. The material they were playing with at Finders Keepers proved the Mr. Mercedes writers didn't know how to keep the show alive for a season without the Bill/Brady dynamic, although Bill's attempt to capture the plane thief offered some much-needed levity.
A season without Brady might not have offered much by way of hard-boiled tension, but it might have been fun nonetheless. Gleeson's comedic line delivery never disappoints.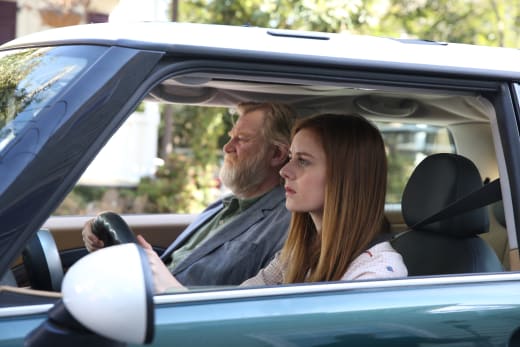 But Holly is still not fully fleshed out at this point without the benefit of a season to get there. Jumping from the fray of her cousin's death and into the private eye business hasn't allowed her much growth.
Justine Lupe transforms herself for every role, though, and it still amazes me that she can pull off such transitions. I have little doubt she could have worked with Gleeson for a season and made it work, just that she didn't get the opportunity.
Related: 14 Most Exciting TV Moments of 2017
Nancy Travis has always been a favorite, so her introduction as Bill's ex-wife, Donna, didn't disappoint. Donna was a little disappointing in that she thought the worst of Bill, but she was married to him, so I'll give her the benefit of the doubt.
The show didn't come alive until Brady began antagonizing Bill. Their spark is unmistakable. Whether it's because the actors feel a kinship when they get down to business or the writers get excited at the possibility of what Gleeson and Treadaway will do with their material is beside the point. They're electric.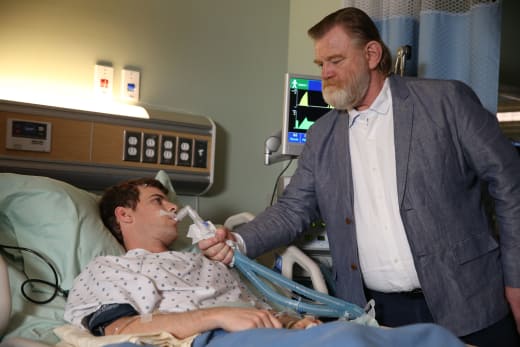 Coming up on Mr. Mercedes Season 2 Episode 2 the real action begins. 
Bill's inadvertent reactivation of Brady's brain by denying him oxygen gets the killer's motor going, and what was a grounded, sick serial killer story is about to go supernatural. It is Stephen King, after all. It was bound to happen, right?
To be honest, it feels a little bit weird to be happening in this particular world, but I'll leave that up to you. 
Tell me what you thought of the premiere. Were you happy to have the cat and mouse back not under a big blue umbrella but a hospital blanket? 
Are you ready for an entirely different kind of chase to get started? Hit the comments and share your thoughts!
Carissa Pavlica is the managing editor and a staff writer and critic for TV Fanatic. She's a member of the Critic's Choice Association, enjoys mentoring writers, conversing with cats, and passionately discussing the nuances of television and film with anyone who will listen. Follow her on Twitter and email her here at TV Fanatic.