That didn't take long.
The Nathan James was quickly back to being the "Point of the Spear" on The Last Ship Season 5 Episode 2.
After all, most of that ship's crew is used to being part of the U.S. Navy's first, and often only, line of defense. The more things change ...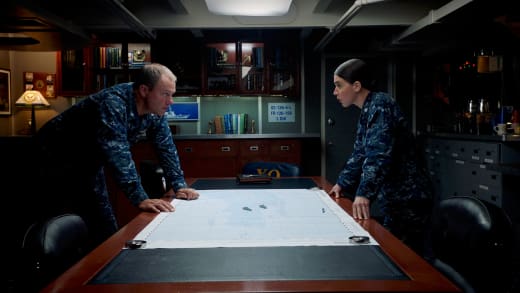 A big part of the Nathan James's success in recent years has been its crew's ability to improvise, and that point was hammered home on this episode.
Improvisation will likely be a big part of the military's action plan throughout The Last Ship Season 5. That's what happens when you're reduced to strategizing with paper maps, grease pencils, and model ships.
Related: The Last Ship Season 5 Episode 1 Review: Casus Belli
Unfortunately, Admiral Tom seemed to be surrounded by other service-branch leaders who aren't used to thinking on their feet, which isn't good when the rulebook has been thrown out.
That seemed especially true of Army General Don Kinkaid, who scowled when Tom brought in Midshipman Swain to help with the hack. He struck me as a by-the-book desk jockey, who promises to be trouble. Thomas Calabro (the original Melrose Place), the actor who plays him, has made a career out of portraying weasels.
Until either the Michener or the Oliver are repaired, Tom will be stuck in Command for this war, which is a shame. Of course, he found his way into the battle from a Greek fishing village on The Last Ship Season 4, so anything is possible.
It should help that Tom is surrounded by his own people, including Joseph Meylan, Russ Jeter, and Alisha Granderson. They can certainly run interference for him as needed.
Smartly, most of the action took place on the two fronts of the war against Tavo.
More emphasis was placed on the Nathan James' accidental battle against Tavo's Corvette warship, which made sense.
Related: Watch The Last Ship Online: Season 5 Episode 1
It was intriguing to see how the crew had to adjust after losing much of the technology to which they were accustomed.
So, like at Command, it was a throwback to World War II methodology, including sextons and sighting firings by eye. They were depending on instinct and guile rather than machines.
It was good to see that Kara remains in command of the Nathan James, even though her role was initially supposed to be ceremonial. Her stirring inspirational speech set the tone for the season.
Under such trying circumstances, with so many inexperienced crew members, it's going to be beneficial to have two such veteran officers as Kara and Slattery available to share leadership responsibilities.
It helped that they could almost communicate telepathically. As this episode showed, subterfuge is going to be a necessary weapon in the ship's arsenal in its diminished condition. When much of your capability disappears, you have to -- that's right -- improvise.
I also enjoyed the boyish enthusiasm of Bell, the first member of Nathan James The Next Generation to be featured. He proved quite capable of translating the mission into terms he could understand and execute. The Nathan James was a rifle, not a spear, in this case.
The Last Ship's Bridget Regan Q & A
So now Tavo is down two planes and one warship. Besides the three other planes, what other heavy weaponry does he have in his arsenal? Or is it just tens of thousands of disenchanted Latinos? Answering those questions will help the U.S. military decide what it's up against.
Vulture Team found themselves up against those ground soldiers in the Panamanian jungles.
It was definitely an the-enemy-of-my-enemy-is-my-friend situation when Vulture teamed up with the rebels of Ernesto Maza. It's a good thing Pablo was there to act as a facilitator. 
Pablo was a good addition to the cast, as Danny's former work buddy. Too bad he had to be killed off immediately, to provide the resistance with a martyr. 
Tavo's forces crashed Maza's camp shortly after Marco's departure. I'd like to think that was just coincidence but the timing was definitely suspect.
Related: Enjoy unlimited access to thousands of movies and TV shows with Amazon Prime Video. Watch anywhere. Cancel anytime! 
Now Vulture Team and the rebels, short of supplies and especially explosives, was off again to blow up Tavo's bridge, somehow. They'll improvise, I'm sure.
The war is sure to come down to a battle for hearts and minds. Tavo has the edge right now, telling the people what they want to hear and handing out goodies. With weaponry diminished, Tom and the U.S. military have to steer some of the Latin American countries their way, to provide a barrier before the U.S.'s porous borders.
To catch up on the new war, watch The Last Ship online.
How do you like the new Nathan James crew? Who should be in charge? What challenges does Tom face at Command? Comment below.
Dale McGarrigle is a staff writer for TV Fanatic. Follow him on X.