The Reagan family took on everything from sexual assault to wedding planning on Blue Bloods Season 9 Episode 2 and no one is about to forget what a "code blue" is any time soon. 
No doubt Eddie has been on her best behavior around the Reagans ever since Jamie brought her home to announce their engagement.
Who wouldn't be?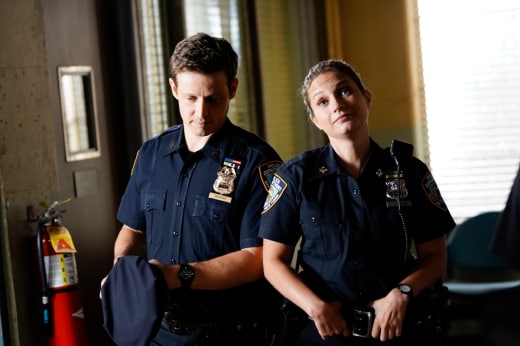 The Reagan's are an amazing, but sometimes intimidating, family unit and as wonderful as they are, it can't be easy to find your place at that table. 
So when the family called a "code blue" at Sunday dinner and started inundating Eddie with all of the things they supposedly expected from her wedding, it was clear it wouldn't take long for her to break. 
Stop! Stop! Stop! Stop! I'm glad you're all very excited but this is my wedding, ours, and we're going to make all the decisions. The flowers, the guest list, dress, band, menu, all of it. Your job, all due respect, is to show up and have a blast. If anybody can't live with that, I'll send you pictures. Okay?

Eddie
If there was ever any doubt as to why Eddie deserves to be a Reagan, this erased it.
In that one Blue Bloods quote she handily showed that although she loves them, she's not about to let anyone push her around. 
And the Reagans appreciate it when you can stand up for yourself. 
Related: 13 Most Memorable "Jamko" Moments on Blue Bloods
Eddie took it even further when she requested not to be transferred over to Jamie's new precinct. 
That was a smart decision on her part. Eddie has worked hard to become a good cop, but if she follows Jamie around, she'll never have her own identity, partly because he's a Reagan and partly because she's the female in this pairing.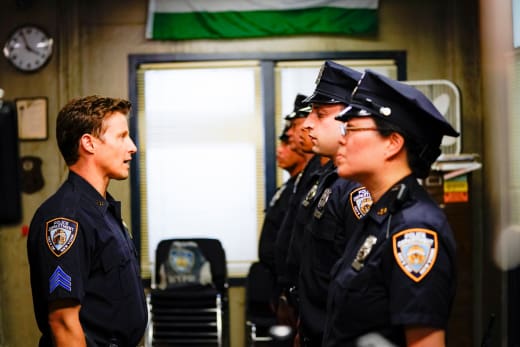 Which leads us to the sexual assault.
First off, I'm a big fan of Bebe Neuwirth and was thrilled to see Kelly Peterson back for Blue Bloods Season 9. I also wouldn't mind seeing Kelly and Frank take their relationship to a more personal level. Frank Reagan deserves a little romance!
On the one side, I could see Frank's point. Sexual assault cases are difficult to investigate under the best of circumstances. They require asking some very personal, many times uncomfortable questions. 
Related: Get CBS All Access via Prime Video Channels for Hit Shows, Exclusive Originals & Live TV!
But I loved how Baker pointed out that Detective Palmer would obviously be on his best behavior while being interviewed by the Police Commissioner and that they needed to dig deeper to find out if there was a problem with his methods or attitude. 
As much as I don't believe that every Special Victims Unit investigator needs to be female, I appreciated that Baker pointed out that many times there is an empathy gap between the genders. 
It has to be overwhelmingly difficult to come forward after being the victim of sexual assault; imagine being brave enough to do so and being told that you are wasting your time hoping to find justice.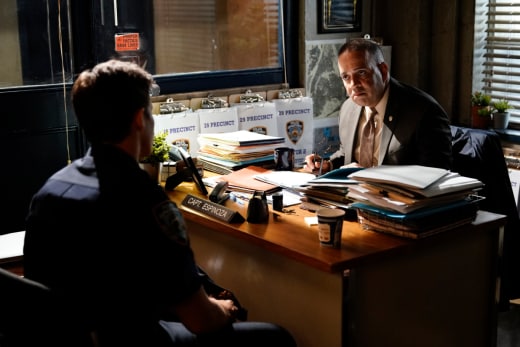 Erin dealt with somewhat similar circumstances when a woman filed a complaint after her boyfriend beat her and sent her to the emergency room only to have him walk away unscathed. 
If Monica had a legitimate reason why she chose not to prosecute then there's no problem. If there isn't, then I need to know.

Erin
Apparently, if you ply the right people in the ADA's office with box seats for sporting events, you can beat the crap out of your girlfriend whenever you'd like. 
I never believed that Erin would back down to Chief ADA Whitney's veiled threats but I was relieved that she got some back-up from her boss before she went into battle. I hope this isn't the last we hear of this story because I'm curious to see how it all turns out. 
Finally, we get to Detective Ray Cross' issues with the police commissioner. 
Danny: Knowing my old man, he doesn't want to waste the additional manpower on his own safety. Right?
Gormley: Right, so don't go blabbing about this over Sunday dinner.

I love how Sid knows enough about the inner workings of the Reagan family to give Danny this warning!
It would be one thing if Cross was innocent and felt he was unjustly forced into retirement but his conversation with Danny and Baez made it clear that wasn't the case. 
Cross felt so justified in skimming money from his narcotics cases and giving it to members of his crew that he continued to hold a grudge even after the missing money came to light. 
Related: Best Bets on Broadcast: Fall 2018 Weeknight Breakdown
Talk about entitled and arrogant! Cross was blatantly breaking the law and he got to walk away clean and keep his pension, and yet he still felt like he needed to get his revenge. 
The twist where his pseudo-foster son works for the Police Commissioner's office and ended up trying to shoot Frank seemed a little too far-fetched. Would this seemingly smart, young man really try and shoot the Police Commissioner in broad daylight with his protection detail right outside? 
Was he that stupid or unstable, or perhaps both? But this particular twist was my least favorite of the hour. 
So you tell me TV Fanatics, should Eddie have followed Jamie to the 29th? 
Would you like to see Detective Abigail Baker get out of the P. C.'s office more often?
And how do you think Eddie handled her "code blue"?
Check back for my review of Blue Bloods Season 9 Episode 3 and until then, you can watch Blue Bloods online here at TV Fanatic.
C. Orlando is a TV Fanatic Staff Writer. Follow her on Twitter.