Whew! Thankfully, all of our favorite firefighters made it out of Station 19 Season 2 Episode 1 alive!
RIP Molly. Her death was sad, and we all felt for Ben, but if someone absolutely had to die, she was the most expendable. 
We haven't spent nearly enough time with everyone else yet, and all of those flashbacks just had us yearning to learn more about each character.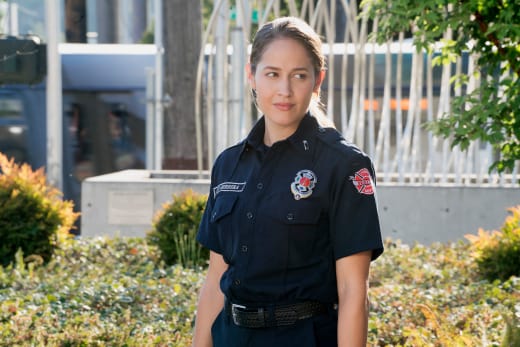 When Molly and her mom shared that sweet moment outside the skyscraper, it felt like goodbye. That feeling only intensified when her mom asked Ben if he thought she'd see her again. Ben was hopeful, but you could see the doubt all over his face. 
As much as he loves being a firefighter, it was killing him that he couldn't be in the OR trying to save her. That has easily been the hardest part of the transition for him so far.
Related: Enjoy UNLIMITED access to thousands of movies and TV shows with Amazon Prime Video. 
He's not used to being stopped at the door and banished to the waiting room. At least he's still able to use his skills in the field. It wasn't a clipboard this time, but an EpiPen that he used to create a makeshift chest tube. He gets bonus points for creativity. 
Thank goodness Montgomery lived! 
He was the character with the worst odds of survival, but his death would have also been one of the most devastating. If he had died, Ben would have been feeling that guilt for a long time.
At least if Molly had survived, he could have consoled himself knowing saving her is what Travis wanted, but if they both died, he would have always wondered "what if?"
Flashbacks are a Shonda Rhimes staple, one she's used effectively several times on Grey's Anatomy, but there were also instances when they didn't add much to the story. 
That was certainly not the case here. 
Not only did they give us a break from the high intensity of the skyscraper fire, but they also made the transitions between those lighter moments to the heart-pounding ones feel seamless. 
Andy: Just because we both have vaginas doesn't mean you and I have to be friends.
Maya: Sure thing. Only, and well, I say this from years of training by myself, there's safety in numbers. And when it comes to us vs. all the rest of these guys, one thing we should probably consider is sticking together.
We got to see the beginning of Andy and Maya's friendship, as well as some animosity between Maya and Jack (now we know why she wasn't the biggest supporter of Jack and Andy's relationship). While those provided much needed comic relief, the flashbacks between Vic and Montgomery were the strongest. 
The cut between Vic helping him overcome his fear of stepping foot into the hospital and seeing him on the gurney with doctors surrounding him was especially powerful. 
Watching him walk through those doors with Vic by his side felt like a metaphor for where he is in life now. He's ready to take the next step forward in his relationship. Michael will always be part of his past, but now he has a new lease on life and a real chance at happiness.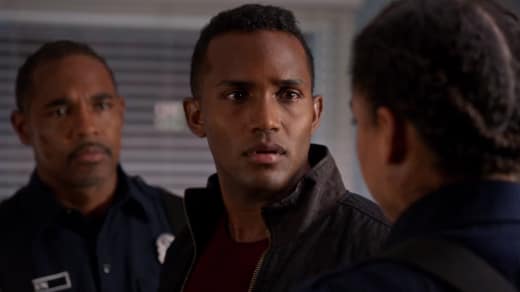 Did Ryan make the right choice by not telling Andy about her father at the skyscraper? 
Andy's angry, and she has a right to feel that way, regardless of whether Ryan made the right call or not. It's hard to blame him for thinking that was the best choice. She was going back in that fire and needed a clear head to do so, but he found out before things got really bad, so she would have had the option to leave with him. 
Related: Station 19 Adds Dermot Mulroney for Season 2
It would be different if she was already knee deep in flames or focused on saving Jack, but at that particular point, she could have left. Still, Ryan knows her best, and he knew she would have had a tough time leaving her team behind. Whether it was the right decision or not, she should forgive him. 
Jack's near death is going to toy with Andy's emotions, but Jack's comment about how maybe he's changed felt ominous. This love triangle is on seriously shaky ground. 
With everyone's lives hanging in the balance, it was almost easy to forget that there was another cliffhanger that needed to be resolved. That being, of course, the reveal of the new captain. Since Pruitt didn't endorse either Andy or Jack, an outsider was the most likely candidate. 
We know very little about him so far, but we do know he's strict, and Andy likes strict. Will she like him? It's hard to say, but hopefully, she and everyone else will at least be able to respect him. It does beg the question of whether Jack will leave Station 19. 
Related: Station 19 Nabs Code Black's Boris Kodjoe
Before the catastrophe, he told Andy if he didn't get the captain job, he was switching houses. Will his brush with death cause a change of heart? Hopefully that's the case, because Station 19 is where he belongs. 
So despite the fact that a good portion took place at Grey Sloane, and both Bailey and DeLuca made appearances, this didn't actually qualify as a crossover. Instead, next week is a real crossover event! Are you excited? With a full season of Station 19, we'll likely get plenty more of these "mini" crossovers, but next week's official one should be fun. 
If you missed any of the action, be sure to watch Station 19 online and get caught up!
Stacy Glanzman was a staff writer for TV Fanatic. She retired in March, 2019.