Criminal Minds Season 14 Episode 6 Review: Luke
Dale McGarrigle at . Updated at .
Poor Alvez just can't seem to catch many breaks.
Yes, Lisa moved in with him on Criminal Minds Season 14 Episode 6.
But it was all downhill from there in this episode directed by Joe Mantegna.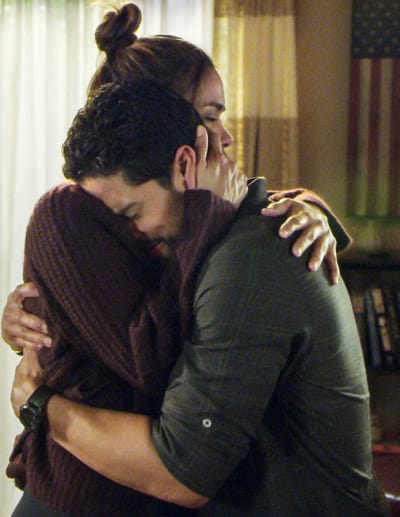 It was good to see Phil, Luke's old regiment mate, and former partner, on his feet and back to work.
Phil was even hinting around for a setup with Garcia. Why Alvez sabotaged that, I'm not sure. He must just want to keep work and home separate as much as possible. 
Neither he nor Lisa want to be dragging their work home with them.
Related: Criminal Minds Season 14 Episode 5 Review: The Tall Man
It was fun to watch Lisa and Phil rag on Luke for being such a monosyllabic communicator. I guess he saves all his long speeches for work.
But apparently Lisa was able to get his singleminded about work, or she wouldn't have been moving in with him. I mean, being an ER doctor can't leave her a lot of time to be sending him heart emojis either.
This being Criminal Minds, of course, such good feelings can't last.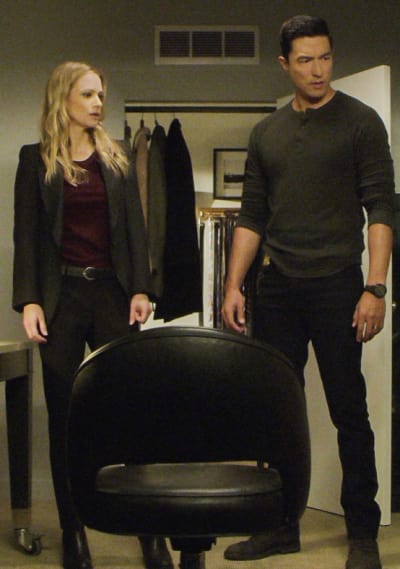 Instead, Alvez's conscientious act in the past comes back to bite him in the ass. You gotta love those dusty flashbacks.
The episode examined the thin line between justice and vengeance.
It took long enough for Luke to figure out his connection to the current case. He must have needed to have the killer's methodology all spelled out before it clicked for him.
Related: Watch Criminal Minds Online: Season 14 Episode 5
Having the killer be the hitman that Alvez had captured five years ago was a little too easy. It was a much better twist to find out Ramos had been killed just like the others, using Ramos's own techniques, and that one of Luke's former colleagues was the new killer.
It's hard to blame Grant for going after anyone connected with the cartel, especially after Ramos gruesomely killed Grant's family. Grant had been the sniper ready to put a bullet in Ramos initially, but Alvez insisted on capturing him and putting him on trial.
It's even understandable why he blames Alvez. If Grant had just killed Ramos, then his family would still be alive.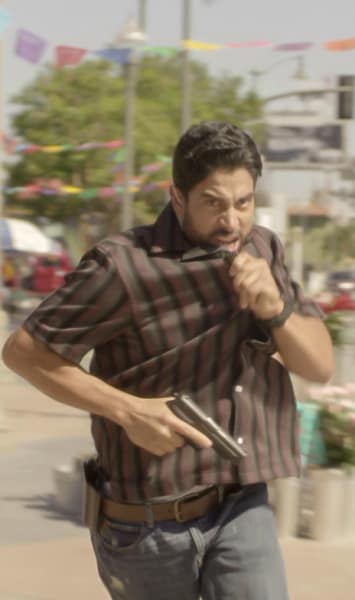 Maybe his killing Ramos was justifiable, but after that, his rampage got morally murky in a hurry.
Grant wasn't inherently evil. But having his family killed by Ramos while he was off fighting the good fight just pushed him over the edge.
But by killing Phil, Luke's best friend in the whole world, Grant brought Alvez around to his way of thinking, favoring vengeance over justice. And now, ultimately, they'll both end up paying for that point of view.
Like Grant, Alvez chose to pursue vengeance instead of taking himself off the case as protocol dictated and Prentiss had ordered. Luke should have let his team track down Grant. 
But hunting down fugitives is in Alvez's blood. Plus this was personal. Exactly the reason he wasn't supposed to be there. If not for the Kevlar, Grant might be dead, and Luke charged in his murder.
Still, if Alvez hadn't tracked him, I question whether the BAU would have caught up with him. Luke found him in an area the BAU search had already dismissed.
Although Alvez disobeyed orders, I still think Prentiss overreacted. Doesn't some agent go off the reservation a handful of times each season? I know she may be concerned about oversight, but still ...
I believe Luke is still a Supervisory Special Agent in training. So drop him back to Special Agent. But don't take him out of the field. He and Simmons are the muscle in the field, and there's no sense in heading out shorthanded.
Related: Get CBS All Access via Amazon Channels for Hit Shows, Exclusive Originals & Live TV!
Alvez finally broke down and told Lisa about all the experiences he and Phil had shared through the years. I'm hoping that she stayed because he needs someone with whom to decompress, now that Phil is gone.
After this Luke-centric episode, we still don't know much more about Luke, other than he now has one less good friend in whom to confide. He and Lewis seemed to be connecting last season, so maybe that could get deepened instead.
SPOILER ALERT: On Criminal Minds Season 14 Episode 7, the BAU must find unsubs who are launching vigilante attacks every 27 minutes in Washington, D.C. Helping them out will be new SSA Andrew Mendoza, 
To catch up on this season, watch Criminal Minds online.
Was Alvez right or wrong to chase after Grant? Was Prentiss's punishment too severe? Is Lisa good for Alvez?
Comment below.
Dale McGarrigle is a staff writer for TV Fanatic. Follow him on Twitter.