Black Lightning Season 2 Episode 11 Review: Prodigal Son

Justin Carreiro at . Updated at .
It's time to say goodbye to a fan-favorite foe.
Khalil "Painkiller" Payne succumbed to his injuries from Tobias on Black Lightning Season 2 Episode 11. After the devastating attack, his chances of survival were dwindling by the minute in one of the most somber deaths we've experienced yet.
"Prodigal Son" was a tender send-off for a longstanding character that grew from wide-eyed teenager to redeemed villain/new anti-hero.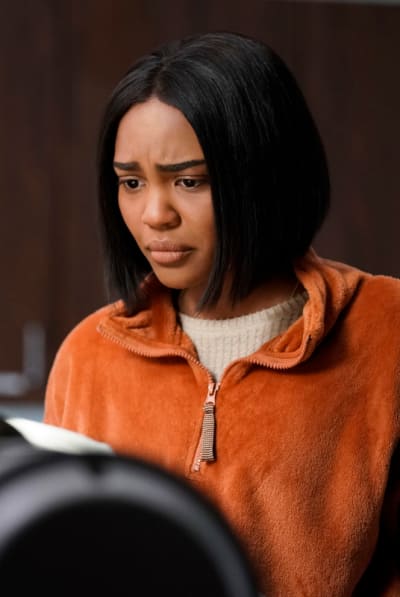 Khalil's journey throughout Black Lightning had been a lot of ups and downs.
His character balanced his showboating nature with his boy-next-door flirtation toward Jennifer. Though, once he assumed the role of "Painkiller," that's where a lot of his inconsistencies took off.
Sometimes he would be the reluctant rebel while other times he would act like the lovesick teenage puppy. Khalil bounced back and forth over what he truly wanted, and it showed in the tone of his scenes. He subtly tried to keep a foot in both worlds.
Once his growth arc started during Black Lightning Season 2, his impending death became a foreshadowed sign.
Khalil's character development was set up to have a hero redemption. Whenever a character tries to change their path for good, that usually means the development is setting them up for a death that ends in the flames of heroic glory ... or tugs at the heartstrings. In this case, it's the latter.
We lightly touched upon his potential death during the review for Black Lightning Season 2 Episode 10. By then, we had prepared ourselves for what could've been of his outcome.
All the pieces were set up for Tobias to get revenge in his petty-filled way. If Black Lightning had ended Khalil's story there, it would've had the same impact but for different reasons (i.e., shock vs. heartache). I would've been satisfied by this path since it would be both shocking and sad.
Related: Enjoy UNLIMITED access to thousands of Movies and TV shows with Amazon Prime Video. WATCH ANYWHERE. CANCEL ANYTIME!
However, I'm also happy with Khalil's emotional and somber send-off.
Khalil had been an important character during Black Lightning's run these last two seasons -- both as an ally and as a villain. This goodbye allowed us to say our farewells and show some respect for the character. Plus, it gave us the prom moment for Khalil and Jennifer's relationship that will never be.
Shippers, let out all the tears!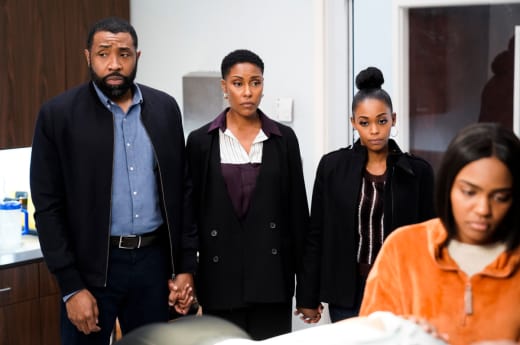 For as much as Lynn wanted to help Khalil, the doctor did have a point.
A lot of Lynn's work with the green light pods was extensively experimental. No substantial results emerged from her testing that could've proved her pods would save Khalil's life at that time.
Jennifer: Mom, the pods! We could put Khalil in a pod and in hibernation until we can figure out how to help him. Think about it, those vaccine kids, they survived in pods for over 30 years, we could do the same thing with Khalil.
Lynn: He's enhanced; he's not a metahuman. I couldn't survive in one of those pods. I'm not sure he could either.
Jennifer: Maybe not, but we have to try?
Plus, Lynn's last experiment killed half of her patients. Sure, Dr. Jace lied and caused those deaths, but with those numbers, was anyone surprised the doctor refused to let Lynn try?
Though, thanks to that reluctance, we have Lynn's epic boss moment to celebrate.
Lynn strolled into that hospital with all the confidence and dominance to take charge of the operation. Dr. Connolley didn't know what hit her, and we were gasping for air.
Jennifer's personal growth pleasantly developed as a result of managing her internal heartache. While it's heartbreaking that she lost Khalil, she at least gained more control over her powers that will help her in the long-run.
Related: Black Lightning Season 2 Episode 9 Review: Gift of the Magi
One thing that became clear was that Jennifer should never give up her sessions with Perenna.
With just one session, Jennifer was able to draw her energy back in AND discover a new ability. Whatever Jefferson and Lynn are paying Perenna is not enough. They owe her a huge thank you gift for the positive effect she's having on Jennifer's life.
Woman: You're trying to steal my car.
Jennifer: Ma'am, I wasn't...
[Woman pulls out phone and calls the police]
Woman: Hello, 911. Yes, I caught a woman breaking into my car. She's African-American. She threatened me! She's 5'6".
[Jennifer's eyes glow and lightning destroys her car]
Woman: Oh my god! What did you do?!
Jennifer: Me?
Woman: Yes!
Jennifer: Your car got hit by lightning. You wanna call the police on God?
If Jennifer's ability with the body's electrical nervous system improves, hopefully, she doesn't hold Khalil's death against herself.
Jennifer only just discovered this new ability; she had no way of knowing how to use it to help Khalil safely. Plus, she did everything she could with Lynn to investigate the use of the pods. And I had crossed my fingers that maybe a miracle might happen. However, the hero edit was strong with Khalil.
Jennifer's development is inching ever so closer to becoming Lightning.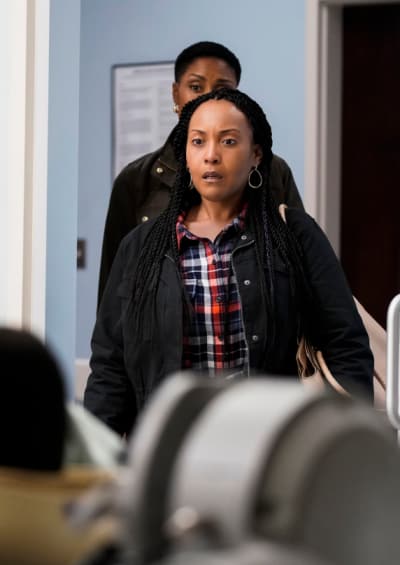 Speaking of moving forward, Henderson is now one step closer toward being involved in more A-plot stories.
Out of everyone on Black Lightning, he always stood on the periphery as a side-character we tended to forget. For as much as he was a hero, he never acted like the main character that we needed to take stock in. And his involvement required a reason as to why he got pulled into the drama when he got removed from it.
Now that he's gotten introduced to the secret hideout, he's metaphorically inducted into the group.
Henderson: I'll be seeing you again.
[Tobias laughs]
Tobias: Awww, don't go away mad, Deputy Chief. Just go away!
Could we be seeing him pop up in team discussions more often now? I hope so.
I enjoyed the scenes of him planning and teaming up with both Gambi and Jefferson.
No apprehension or fears of discovering Jefferson's secret identity weighed the tone down. The group simply enjoyed their heroics and put their plan into action to deceive Tobias; their undercover work was equally fun and clever.
The villainous community is a small world. Who knew Cutter, Tobias, and Dr. Jace all had shared pasts that extended beyond Black Lightning? These waters keep getting deeper.
Cutter's relationship with Tobias didn't surprise me in the least.
Not much had been given before about her past, and the sudden need to provide background came out of the blue. Plus, she brushed off the mention like it was nothing.
If the character doesn't care, then there's no point for us to focus on this. At most, this moment seemed to be a throwaway line to add exposition to justify her stoic attitude toward Tobias.
Tobias: Damn, I guess orange is the new black. Long time no see.
Dr. Jace: And yet we both look the same.
Tobias: Indeed.
Dr. Jace: You never thanked me for creating the anti-aging serum that's kept us both so young.
Tobias: True dat. Maybe that's because when you gave me this serum, you didn't know it would keep me from aging or kill me. The day I thank a crazy scientist for experimenting on my a** is the day I day.
Dr. Jace's revelation, on the other hand, added new layers to the A.S.A. mystery and her connection to the mythology of Black Lightning. She dropped that tidbit of being involved with the original Freeland experiments like it was a delicious cup of tea.
The evil doctor probably has a wealth of knowledge about the past that she's been sitting on for decades now. And she quite literally opened up those closets to reveal the skeletons hiding away in there. We've said it before, but Dr. Jace is a shady doctor.
Related: 31 Lethal Couples You Don't Want To Cross
With Tobias now in control of the four most powerful metahumans, what troubles could he get up to in town?
He has the powers and muscle to do any nefarious plan that pops into his head. Plus, with Cutter's assassination skills and Todd's intelligence on hand, Tobias could be unstoppable.
Let's hope Black Lightning and Thunder are equally matched with these mysterious foes.
Last Thoughts Lightning Round:
If Dr. Jace had the cure for anti-aging, why did she sit on that discovery and not make billions from it?! Dr. Jace may be a genius, but that lapse in judgment was negligent towards her bank account.
 
Grace delivering food for Anissa at the hospital = adorable!
 
Todd is getting a lot more confident in his role as a bad guy. He strolled into Dr. Jace's cell to break her out with so much carefree swagger and chill that it verged on being a mood. (That's the type of energy to bring into 2019.)
 
Jennifer's response to the woman calling the police on her was the perfect clapback. Karma is going to get her again, but at least Jennifer delivered some swift electric justice on that injustice.
 
The Reverand's death was shocking, especially since his monologue made it seem like the plot was gearing up for him to take on the metahumans. Was this a missed opportunity or the right call?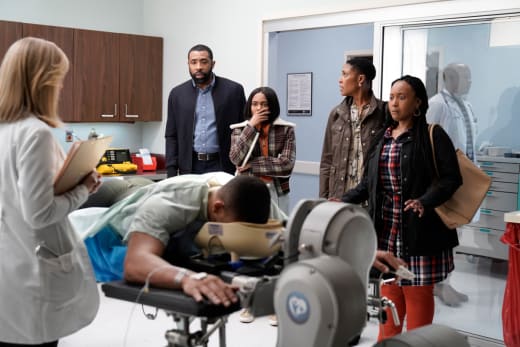 Now, over to you, Black Lightning fans!
What did you think of "Prodigal Son"?
Will Jennifer explore her new ability? What powers will the new metahumans have? Are you going to miss Khalil?
If you missed the latest episode of Black Lightning, you can watch Black Lightning online via TV Fanatic. Come back here and share your thoughts in the comments.
Justin Carreiro is a staff writer for TV Fanatic. Follow him on Twitter.