Blue Bloods Season 9 Episode 12 Review: Milestones

Jack Ori at . Updated at .
It's not often that Danny's storyline takes a back seat to the rest of the Reagan family's drama, but it's certainly a refreshing change of pace!
Blue Bloods Season 9 Episode 12 left Danny and Baez to investigate the least interesting case of the hour.
Their case was so humdrum that it almost felt like filler, and it was resolved more quickly than any other case of Danny's I've ever seen.
The most interesting thing about Danny and Baez's storyline was that their prime suspect's name was Joshua Taylor. As a Days of Our Lives fan, I was amused by him sharing his name with the actor who plays the ex-police commissioner on that show!
The case was a typical case, I guess, but there was nothing special about it and it was wrapped up far too neatly and far too quickly.
I will admit I wasn't expecting Walsh to go nuts and hold a gun on the bookie. He seemed to be the comic relief until then who was irritating Danny with inane comments about his devotion to the team.
Related: Get CBS All Access via Prime Video Channels for Hit Shows, Exclusive Originals & Live TV!
Danny was Danny-lite during this case. He came down kind of hard on Joshua in the interrogation room and threatened him with prison later so he could get info about the bookie out of him, but there weren't too many hotheaded moments.
I'm not generally a fan of Danny because I find him too impulsive and prone to anger and I don't like it when he errs on the side of abusing power, but this case went too far in the opposite direction and he didn't do much to keep my eyes glued to the screen during his scenes.
Mrs. Wright: She took the drugs alone in her car.
Erin: Then why are we first hearing this now?
Mrs. Wright: She was ashamed. She didn't think she was anything but a guilty murderer.
Erin: She is guilty.
Meanwhile, the most gripping storyline of the hour went to Erin.
She was faced with a tough choice that I'm still unsure how I feel about.
On the one hand, Samantha's mother had proof that her child was acting out because of an undiagnosed mental illness.
On the other, Mrs. Lee was right too -- no explanation changes the fact that her four-year-old lost his life because of Samantha's decision to drive while under the influence of those drugs.
Related: Blue Bloods Season 9 Episode 11 Review
From what Erin said in court, it all went to intent. It makes sense that a teenager driving under the influence just to test limits would be considered more reckless than someone who took drugs in an effort to resolve a mental illness without help even though both resulted in the same tragic death.
Erin was in a tough spot because of her ideals. A district attorney who only cared about the letter of the law or who saw all drunk driving incidents as equally irresponsible behavior would have just come down hard on the defendant, but she had empathy for both mothers and was more interested in justice and rehabilitation than punishment.
Erin's sentencing recommendation made sense when considering the potential for rehabilitating Samantha. Going to jail for ten years without getting any mental health treatment wouldn't help her to avoid future destructive choices, and that would increase the risk that she would drive under the influence again and hurt or kill someone else.
Mrs. Lee: Surely a person can't commit such a heinous crime and not serve jail time.
Erin: Unfortunately she can.
Mrs. Lee: Well, I'm glad you're on my team.
Erin: I'm not on any team. I represent the people of New York, including Samantha Wright.
Mrs. Lee: Well, then I hope you're on the side of whoever's lost the most. And what more is there to lose than a life?
Mrs. Lee saw the lighter sentence as disvaluing her suffering or the fact that a child died, but it potentially saved more lives.
She also went to Erin expecting her to be on her side and I don't think she quite got the message when Erin tried to explain she wasn't on anyone's team and had to do what was best for all of the citizens of New York. That's probably why she felt so personally betrayed by Erin's decision.
I'm not sure how Erin could have handled it better. She wanted to display empathy and probably didn't want to anger Mrs. Lee before the hearing, plus she may not have made up her mind what she was going to do yet.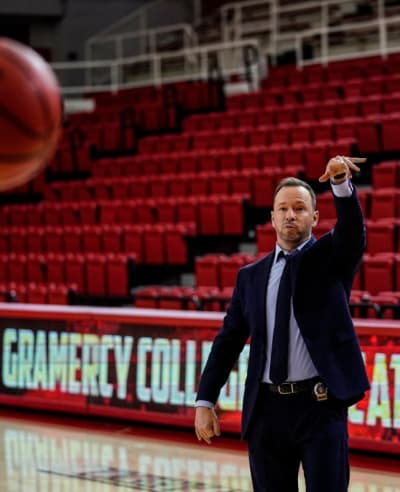 I knew Jamie's new ridealong was going to be a problem from the second he was introduced.
The guy was on a desk most of the time for a reason. He froze up the second he got to a real crime scene.
At first, I thought he was going to turn out to have PTSD or some other issue that stopped him from being effective in the field, but by the end it seemed like he was just lazy.
He was also uncomfortable with taking orders from a cop young enough to be his son, and that may be why he kept giving Jamie advice and didn't want to take orders from him.
Related: Madam Secretary Season 5 Episode 10 Review
I expected it to turn out that he suggested Jamie not waste money on a wedding because his own marriage didn't last. Either way, his advice caused unnecessary trouble between Jamie and Eddie.
Eddie and Jamie got back on the same page and Jamie admitted that Eddie was more of a risk taker while he was more of a worrier and practical thinker, but I thought Jamie also needed to learn not to let outsiders influence his relationship decisions.
If Jamie was worried about money or the size of the wedding, he should have discussed it with Eddie, not just parroted what the other cop said, and the last thing this couple needs is other people's opinions coming between them.
After all, they survived Frank's stubbornness and outspokenness about their work arrangements. So there's no need to let strangers unduly influence them!
But their fight did have an up side, and that was that their make-up sccene was one of the sweetest scenes ever.
Jamie's complimentary comments about Eddie's risk taking influencing his life sounded almost like their vows, and their kiss was a nice payoff for sitting through that argument.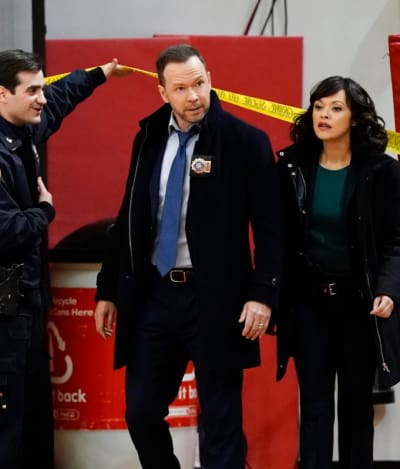 Frank's story was sort of sweet.
I didn't like him showing up to talk to the ex-cop over and over when she didn't want to be bothered about her job decision, but I much prefer sensitive Frank who tries to make amends for his mistakes to grouchy, rigid Frank who doesn't accept anybody making any!
Well, I made two resolutions. One is to always be right. And the other is to admit it completely and immediately when I am wrong.

Frank
Frank's resolution to admit his errors is a strong improvement for his character and I hope he sticks to it.
And his speech about taking risks was inspiring on top of dovetailing nicely with Jamie and Eddie's conversati
What did you think, Blue Bloods Fanatics? Is Frank's New Year's Resolution going to stick? Did Erin make the right call with her sentencing recommendation? And how do you like the venue Jamie and Eddie chose for their wedding?
Weigh in below, and don't forget you can watch Blue Bloods online if you missed anything!
Jack Ori is a senior staff writer for TV Fanatic. His debut young adult novel, Reinventing Hannah, is available on Amazon. Follow him on Twitter.