Gotham Season 5 Episode 1 Review: Year Zero

Lisa Babick at .
Saint Jim of Gotham.
If there's one thing that stuck out on Gotham Season 5 Episode 1, it was that Jim has always been the bastion of hope for Gotham.
Sure, Batman is coming, but without Jim Gordon, there wouldn't have been a Gotham for Batman to save.
Do you remember Gotham Season 1 when Commissioner Loeb told Jim that hope was for losers?
Jim never saw it that way.
Related: Gotham Season 4 Finale Review: No Man's Land
Even in his own darkest times, he never gave up hope.
And now, with the city in utter shambles and no help arriving anytime soon, with people still to serve and protect, Jim continues to hold on tight to hope.
Bruce: You can get someone else to turn on the spotlight.
Jim: I like doing it.
Bruce: Because it reminds people that even in darkness there is light.
Jim: No; it reminds me.
Bullock was right. Jim is Gotham's saint.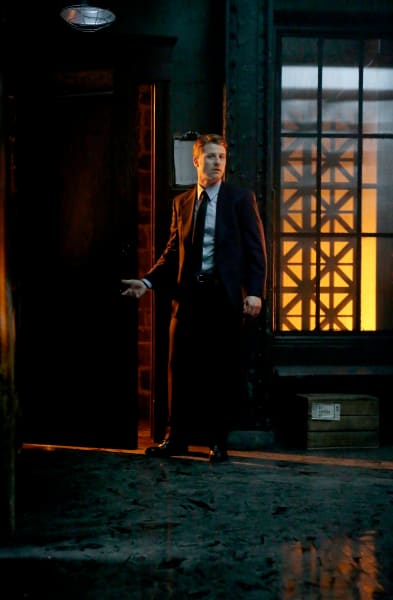 Let me repeat that. Jim is Gotham's saint.
In the real world, Jim is probably closer to wearing devil's horns than a halo.
I swear to God, I'm never paying taxes again.

Bullock
He's wobbled on the line between light and dark for four seasons.
But all the horrendous things he's done have been done with good intentions.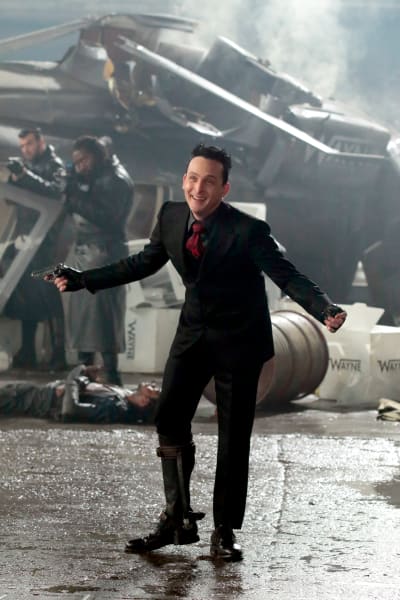 Yes, Jim is a walking oxymoron.
And seeing him walk down that hallway with Penguin, Riddler, and Bullock behind him was one of the best things this hour had to offer -- even if it was a forward time jump before we went spiraling backward again.
Related: Get HBO via Prime Video Channels for Addictive Dramas, Hilarious Comedies & Hit Movies!
I could write volumes on Jim and Penguin's relationship and how it parallels the future relationship between Joker and Batman, but that will have to be for another time.
All we need to know now is that despite their love/hate relationship, Jim and Penguin are still willing to work together for common goals whatever they might be.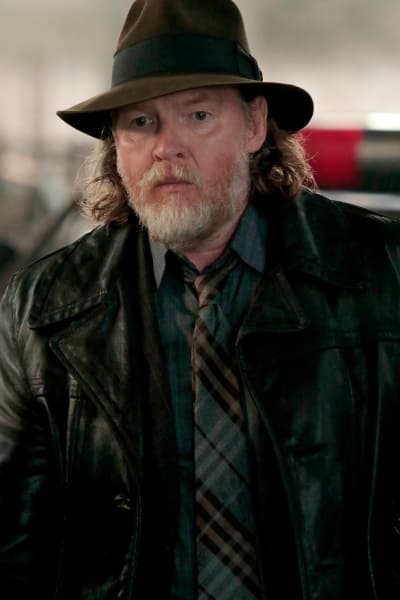 But that probably won't last. In fact, it might be the last time we ever see Penguin and Jim working together on the same side.
For right now, though, it's the same old Jim and Penguin dance.
One dance that ended rather brutally was Penguin and Tabitha's neverending hate dance.
I jumped for joy when Penguin plunged his knife into her. Justice for Gertrud.
He should have killed her eons ago, but I don't really think he intended to kill her when he did.
He had pretty much lost his patience after he figured out he wasn't going to take the supplies from the helicopter home with him.
And the fact that Tabitha tried to shoot Penguin with his own, subpar weapon was too much for him to handle.
He's headed down a very dark path. The old Penguin is about to shed his coat.
Babs was beside herself about Tabitha which is why she didn't catch how Jim saved her from becoming Penguin's second victim of the day.
Had it been another time, she would have ridden that nugget into the sunset.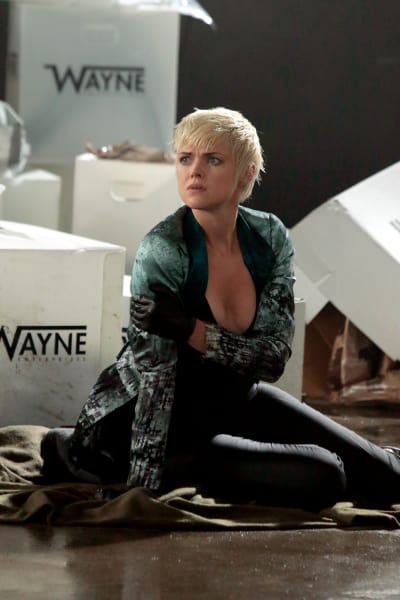 Jim still has feelings for Barbara.
He's always had a place in his heart for her no matter how much he has tried to deny it.
While Lee is sure to be lurking around somewhere (if Riddler is alive, she sure as heck has to be), maybe Lee will stay away long enough to give Babs and Jim a chance to reconnect.
Speaking of reconnecting, Selina is in a pretty bad spot these days.
Bruce is doing all he can to help her, but she's not having any of it.
He's so desperate to help her heal that he's willing to listen to that crackpot nurse who keeps insisting he go see a witch.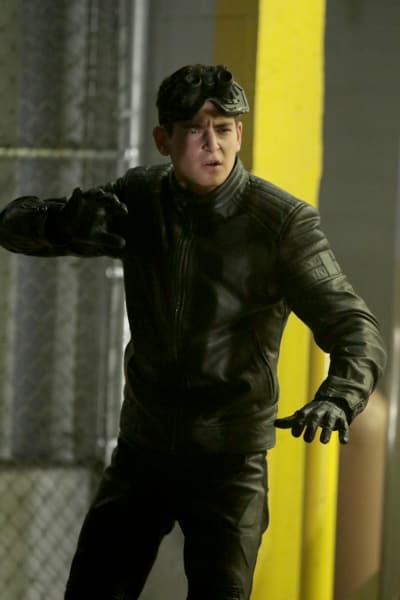 Bruce needs to stay away from the supernatural and focus on kicking ass like he was when Scarecrow's men attacked his supply room.
Related: Get Starz via Prime Video Channels for Captivating Original Series & Hit Movies!
As great as it was to see Bruce hanging in the dark, it was funny as hell when someone turned on the lights and blinded him. 
He'll get it eventually. 
You know what's funny? Jeremiah shot me to get to you. After all the things I've done, what did me in was being your friend.


Selina
Riddler will eventually start to understand what's happening to him, although at this point, it's unclear.
He's alive. That's a good thing.
But he keeps waking up in strange places.
He seems to think he's having some sort of battle with Ed again, but he probably doesn't realize yet that he is a product of Professor Strange.
Isn't it strange he hasn't wondered about Lee? Does he even remember her?
And what is going on with him anyway?
There was plenty to digest on "Year One," but every moment of this jam-packed episode was a titillating preview of how everything will meld together before we say our final goodbye to television's greatest comic book series.
What did you think of the season premiere?
What are your wishes for the final season?
Were you glad Penguin finally killed Tabitha?
What will become of Jim and Babs?
Hit the comments and share your thoughts.
If you need to catch up, you can watch Gotham online right here via TV Fanatic!