Legacies Boss Hints at Major Vampire Diaries Character Return
Paul Dailly at . Updated at .
Legacies finally returned for its second season Thursday night, and there was a reference to a much-loved character from The Vampire Diaries. 
Yes, we're talking about Kai here. 
Kai is Josie and Lizzie's uncle and the man who butchered the Gemini Coven, as well as their mother, Jo, on her wedding day.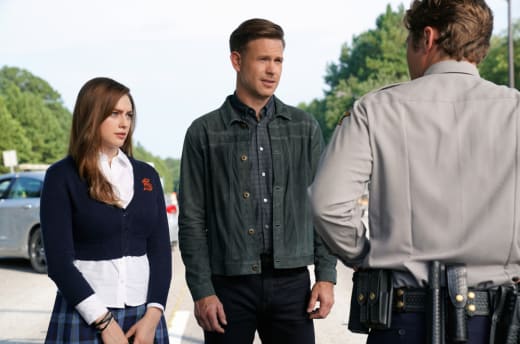 On Legacies Season 2 Episode 1, Josie learned the truth about the prison world that was keeping Kai at bay. 
Alaric was against telling his daughter anything because he and Caroline have been trying to find a way to save them from the impending merge, in which one of the girls will give up their life. 
Bonnie and the twins used an ascendant to lock Kai in the prison world on The Vampire Diaries Season 8, but with the merge coming to the forefront, it looks like Chris Wood could be coming back as the villain. 
"It's definitely not the last we've heard of him," creator Julie Plec told TVLine.
Related: Legacies Season 2 Episode 1 Review: I'll Never Give Up Hope
"We'll keep laying little Kai Parker Easter eggs, because he is a massive part of the twins' backstory and mythology, which is something we plan on telling stories from for the entire series.
"While I know we'll never be able to get Chris Wood back for an entire series, it's certainly fun to keep him alive in the hopes that we'll get to see him in small doses over the course of the run of the show."
It makes sense that Plec would say the merge storyline will be told the entire series, especially given that it occurs when the girls reach their 22nd birthday. 
If you watch Legacies online, you know that Caroline is in Europe trying to find a way to save her daughters, while Alaric is doing the same from the comfort of Mystic Falls. 
Related: Legacies Bringing Back Originals Favorite
Chris Wood's return would make sense. He's appeared on multiple CW series during his time in the spotlight, and we already know the network likes to recycle stars. 
What are your thoughts on this?
Hit the comments below. 
Legacies continues Thursdays on The CW. 
------------------------------------------------------
Editor's Note: Our system got updated! Now, you'll be able to scroll through many articles at once. That required a bit of a change to the comments, though, and now you have to click the blue "comments" bar at the bottom of an article to access them.
There are also two segments to comments now. You can either comment using Facebook or Disqus. Either way, you can SEE both types of comments. We hope that will be more inclusive of our community at large and that the conversations will grow as a result.
Paul Dailly is the Associate Editor for TV Fanatic. Follow him on Twitter.