Days of Our Lives Spoilers for the Week of 10-23-22: Surprise Guests Turn Theresa and Stephanie's Lives Upside Down

Jack Ori at .
Salemites should stop answering the door when they aren't expecting visitors.
People open their homes to unexpected visitors while clad only in a towel so often that it's become a tired soap trope.
And according to spoilers for Days of Our Lives during the week of 10-23-22, two people will discover visitors they hoped not to encounter when they receives knocks on their doors.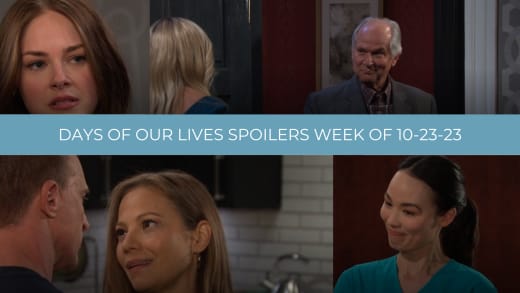 The bad news: According to the fall spoiler video that was released at Day of Days 2023, Theresa and Konstantin are in cahoots to cover up that Xander is VIctor's rightful heir, not Alex.
This terrible twist makes no sense. We know that while Theresa was reading the letter, Brady and Alex came in and they all went home. There was no time for Konstantin to get involved, yet the video contains a flashback of them reading it together.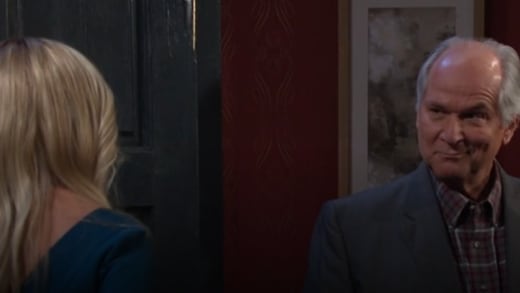 Theresa also has no motive to change the letter, and this twist suggests that Anjelica had two sons with the same name (unless somehow she magically forged Anjelica's signature on a different letter without either Alex or Justin realizing it wasn't Anjelica's handwriting.)
Hopefully this one will make more sense when it airs, because right now it makes none. But with Konstatin showing up unexpectedly at Theresa's door, we may begin to get answers already.
The Stephanie twist is more compelling. Blake Berris turns up as the ex who ghosted her in Seattle -- but he's not Nick Fallon; he's a new character named Everett. And he's also Jada's ex-husband!
Will this twist be similar to the Mackenzie/Ed/Holly story airing on Neighbours right now? It's always fascinating when two soaps have similar stories and handle them differently.
In other news, it doesn't appear that Nicole will find out about the DNA test switch yet. The fall spoilers suggest that she STILL doesn't know when the baby is born -- and Sloan and Melinda will kidnap it.
Nicole's already had two babies die, so this seems cruel. And it would have made sense for her last "dead" baby to have been kidnapped after she delivered only a few weeks prematurely, so why do this now instead?
The baby is born after a car accident and for some reason Leo has to deliver it, so we aren't getting rid of him so easily either. But how will this story differ from when Sarah's dead baby was switched with Kristen's live one several years ago?
Please scroll down to check out the entire list of Days of Our Lives spoilers for the week of 10-23-23.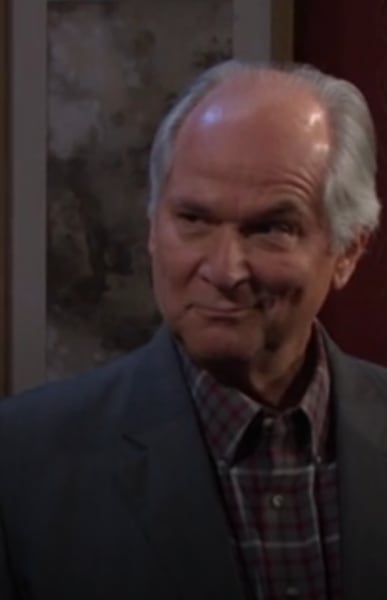 Theresa gets an unpleasant surprise.
Konstantin is in town, and he's made it his business to visit Theresa, who doesn't want him to ruin her plans.
What exactly are these two up to?
And even though they weren't together, putting this twist into what appeared to be a promising third romance for Maggie feels like a breakup for the sake of drama.
Sloan sneaks into the Dimera mansion to ensure Nicole doesn't find out the truth.
Double ugh, especially since it appears she'll get away with this nonsense.
This story needs to end already. It's been dragged out too long, and viewers are becoming too invested in EJ and Nicole as a couple.
Hopefully, Sloan will at least have a near miss before getting away with this stupid plan.
Leo and Dimitri evade the police.
So much for the Days of Our Lives Round Table team's prayers that Leo and Dimitri would take their act off-screen.
Honestly, the police aren't hard to evade, which is a silly Salem trope that needs to go. Rafe bemoaned the lack of security in the hospital but didn't do anything to counteract it, allowing Leo and Dimitri to slip through his fingers.
This isn't the first time Leo's dressed up as a nurse, either. After tricking the hospital once, they shouldn't have let it happen again. But now Leo and Dimitri are on the run and it's likely to be forever before they're caught.
Harris is concerned about Ava.
Harris gets wind of Ava's entanglement with Clyde, and he's not happy.
This situation could be easily resolved. Former mob boss Ava could tell her new-cop boyfriend the truth about the threats she's been receiving.
Instead, Ava'll keep it to herself -- and that could be a big problem for her relationship with Harris, among other things.
Steve pressures Chad to marry Stephanie.
Butt out, Steve! Chad and Stephanie's relationship status is their business.
Chad isn't ready to consider marriage yet. He's still mourning Abigail.
Of course, he should have thought about that before moving in with Stephanie in the first place, especially as he has young kids to think about.
Still, only in Salem do parents have the right to control their adult children's relationship choices. Kate is bad enough without Steve and Kayla becoming buttinskis too.
Gabi and Stefan get the upper hand over Kristen.
That likely won't last long. Kristen is Days of Our Lives' version of Yellowstone's Beth Dutton; there's no line she won't cross to get what she most wants.
Stefan and Gabi think they can threaten to get Rachel taken away, but that won't work for long.
Threatening Kristen is dangerous enough; if you mess with her relationship with her daughter, there will be hell to pay.
Marlena has harsh words for Brady.
This happens after Kristen doesn't allow Marlena to see Rachel, so Marlena will probably blame Brady for that.
I love Marlena, but hate her judgmental side. The one to blame for this nonsense is the judge who somehow decided that Kristen would provide a safer and more loving environment for her daughter than Brady because her long list of crimes she was pardoned for "doesn't count."
Brady needs to learn how to be a better parent to both Tate and Rachel, and Marlena could help. But if she throws a tantrum instead, it'll only alienate Brady.
Stephanie is shocked by a surprise visitor.
Stephanie's ex, Everett, is in town, and he's played by a familiar face -- Blake Berris. Berris is well-known as the late, evil Nick Fallon, but this time he's playing someone else.
Of course, since it's Salem, Everett could easily turn out to be Nick with a fake name or amnesia. But since Stephanie was friends with Nick, that twist would be hard to pull off.
In any case, Everett is rumored to also have married and divorced Jada, so there's a strong backstory here. This might be one of the fall's more compelling storylines!
Your turn, Days of Our Lives fanatics. Hit the big, blue SHOW COMMENTS button to share your thoughts and theories about these spoilers.
If you'd like to caht about already-aired episodes of Days of Our Lives, check out the latest Days of Our Lives reviews and Days of Our Lives Round Table discussions.
Days of Our Lives streams exclusively on Peacock. New episodes drop on weekday mornings at 6/5c.
Jack Ori is a senior staff writer for TV Fanatic. His debut young adult novel, Reinventing Hannah, is available on Amazon. Follow him on X.