How I Met Your Mother Review: "Say Cheese"
at . Comments
Last night had many typical How I Met Your Mother situations that we have come to know and love.
For one, how great was the comparatively terrible pictures of Marshall vs. Barney's creepily great looking pictures?! Both had us laughing out loud.
Not many people can pull off looking that dead in every picture - way to go Marshall. And in typical Barney fashion, it was eerily mysterious and comical. Way to go Robin for getting him to take a bad picture! We didn't think it could happen.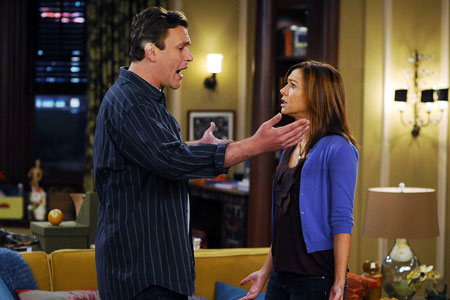 How can anyone not love the flashbacks? This episode was a flashback in a flashback in a flashback.
It was nice that they pretty much had the whole gang going back to past events. Our favorites always include the awkward teenage college years. Ted, Marshall, and Lily look amazingly dorky and know how to pull that look off perfectly. We couldn't help but love the fact that they brought back Karen. Oh how we all loved to hate her!
And last but not least, Marshall's silly games and fun songs. It is his wife's birthday after all!
How can anyone not smile when Marshall is singing Happy Happy Lilythday and playing Lilial pursuit?! These are the reasons why we love the big guy so much.
We have to admit it, but the Name That Bi*** game does sound like fun! Especially when it revolves around all the random ladies that never work out for Ted. It was great that the writers went there (we mean, they kind of had to) and openly discussed Robin as one of his skanks. That is how she became part of the gang in the first place.
All in all we thought it was a great episode and had everything in it that makes us love this show so much. We don't care that we didn't get any closer to finding out who the mother is and honestly we are quite alright with that - as long as Marshall can keep up his funny songs and the group as an entirety goes back to the past more often (not just Marshall).
What did you guys think? Did "Say Cheese" live up to your expectations? Leave your comments below and tell us what was your favorite (and least favorite) part of the episode.
Follow the jump to read a few of our favorite How I Met Your Mother quotes from last night!
Robin: Fun fact. Each year my mom has Easter tea with her friend named Bunny. Okay not that fun. | permalink
Barney: The camera loves me Robin - more than loves me the camera lusts me. The camera wants to put on some nice lingerie, pop in an Al Green CD, dim the lights, and do me as I lie there with my eyes closed. | permalink
Barney: It is physically impossible for me to take a bad picture - I don't know why, just ask God. | permalink
Barney: I've always looked drop dead stone cold amazing - unlike Marshall who always looked dead, stoned, and cold. | permalink
Lily: Oh Ted, here's another fun little trivia game it's called - name that bitch. | permalink
Tags: How I Met Your Mother, Reviews
Want more How I Met Your Mother?
Sign up for our daily newsletter and receive the latest tv news delivered to your inbox for free!
More From TV Fanatic
On tonight's Gang Related, Ryan was forced to make a difficult decision. Which side did he chose?
On the latest episode of Satisfaction, Neil learns an important lesson about being honest with himself from Adriana while Grace struggles on her new job. Read on for analysis.
On Rookie Blue, Oliver turns down extending his contract as Acting Staff Sergeant until Duncan's dismissal hearing turns unpredictable. Read on for more.
On tonight's The Bridge, Marco is made an offer that he initially refuses. Will he agree to go after Fausto?
---