Hawaii Five-O Review: "Malama Ka Aina"
by Jim Garner at .
Hawaii Five-0 gave us another episode to love this week, as "Malama Ka Aina" shed more insight into our team.
Honestly, I love this show a lot more than I should after three weeks. Then again, any show that has my 70-year old mom calling me every week to rave about how much she enjoyed it has captured a wide audience and deserves all the love.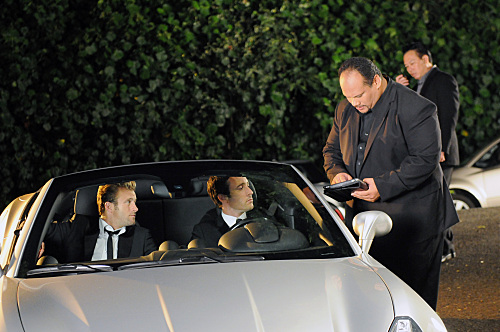 The Hawaii Five-0 cast continued to show great chemistry throughout the hour, as the episode opened on the team at a football game, so comfortable together I nearly forgot this was only the third installment of the series. 

Then, the show ran the full spectrum of emotions, from Danny having the Imperial March for his wife's lawyer to Steve using his pull with the Governor to help Danny not lose his visitation with his daughter, and so many things in between. To wit:

Chin Ho's Reputation

: We have known the back story on Chin Ho Kelly since the pilot, but we really didn't get to see how it has affected him fully until now. We knew that Kono was family and stood by him, but it was a surprise to find out that he had other family members who thought he was guilty and turned away from him. I gained a new respect for Chin Ho in this episode, given the amount of crap he must have been dealing with before deciding to step back into that storm.

Danny and Grace: It is great that the show features a divorced father so committed to being close to his daughter that he moved 5,000 miles to spend two days a week with her. Caan's portrayal of a loving father is one of the best I have ever seen and I think it balances his passion for catching bad guys nicely.

The Origin of The Name "Five-O:" In the pilot they worked in how the phrase "book em' Danno" came about, and tonight we learned about where the term "Five-O" came from. If I remember correctly in the original series, the Governor assigned the name to the unit; this time it is a lot more personal to Steve. On a trivia side note, the slang term for cops being "five-o" actually stemmed from the original series.

I will once again mention that they kept the gun fights down to two short ones, both very appropriate to the show and allowing the plot and character development to take center stage (as it should).  I know some people may find it convenient that the bad guy was from New Jersey, the same place Danny came from. But I can totally overlook that, as the show gave reasonable reasons for it, and it allowed Danny to step up and be the source of info for a change.

What did you think?

Jim G. is a TV Fanatic Staff Writer. Follow him on Twitter.

Tags: Hawaii Five-0, Reviews
From Around the Web