Unlike most episodes of Modern Family, "Unplugged" lacked a cohesive theme.
The trio of storylines never really came together, and each relied on an overarching silly concept more than funny quip after funny quip. Sure, the concept of each development - no technology for the Dunphys, Gloria as a murder suspect and Cam/Mitchell panicking over pre-school - was humorous, but the execution was less hilarious than usual.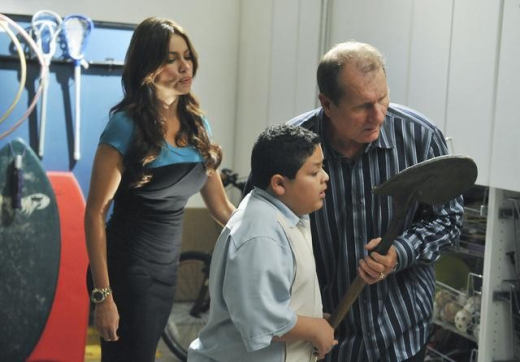 Is that the rat shovel? [Photo: ABC]
This is still Modern Family, of course, so the half hour had its moments.
There was Manny not having a clue what most kids do; Phil thinking Luke's cereal slurping was "awesome;" Haley's impressive soap-carving skills; Cam's Native American impression and his reaction at his and Mitchell's pre-school competition: Disabled inter-racial lesbians? With an African-American kicker? I did not see that coming.
Here's a look at our other
favorite quotes
from a somewhat sub-par episode:
Claire: Don't take this the wrong way, but I have almost no faith in you. | permalink
Jay: Don't most kids drink soda?
Manny: Who knows what they do? | permalink
Jay [on Gloria]: She's always had a certain comfort level with... killing. | permalink
Mitchell: She wants us to buy Lily a Blackberry.
Cam: She doesn't have the dexterity for that! | permalink
Mitchell: We're gonna have the only underachieving Asian in America. | permalink

Phil: I am completely on board your mother's horse and buggy to yesteryear. For the next week, I may as well be Amish. Jebediah Dunphy: Raisin' barns, witnessin' murders, making electric-fireplace hearths. | permalink

Gloria: Oh, here we go, because in Colombia we trip over goats and we kill people in the street! Do you know how offensive that is? Like we're Peruvians! | permalink
Matt Richenthal is the Editor in Chief of TV Fanatic. Follow him on Twitter and on Google+.

Tags: Modern Family, Reviews
Want more Modern Family?
Sign up for our daily newsletter and receive the latest tv news delivered to your inbox for free!
More From TV Fanatic
Scott decides to get tough on Teen Wolf after rescuing his Beta by declaring he won't sit back and watch more deaths. Find out what else went down in the review!
Heather and Tamra consider making peace with Shannon on The Real Housewives of Orange County. See what went down in our TV Fanatic review!
On Murder in the First, the trial of Erich Blunt reaches its conclusion. But what is the verdict? Find out when you read the review.
Andi Dorfman chooses between Nick Viall and Josh Murray. Find out who she chose now on our The Bachelorette review!
---