So, how much time does Patrick Jane spend in the CBI attic playing with cool toys such as flying helicopters? 
I still don't understand why a state office building comes equipped with a creepy attic, but at least Jane is making good use of it.  Does he ever go home to sleep? And where is CBI security as he wanders around the building?  I'm just wondering.
Those mini complaints/questions aside, I really liked "Cackle-Bladder Blood." It was great to get to know more about Jane's background and his family.  That his brother-in-law Danny was a con man seemed very fitting.  It also gave Jane the opportunity to tell Lisbon more of his history.  His wife's family was "Carnie royalty" and she wanted out of the life when she married Jane.  She didn't like that all outsiders were considered marks and fair game for cons.  Obviously, his wife was a good person and perhaps served as Jane's conscience.  That must make his guilt over her death even worse.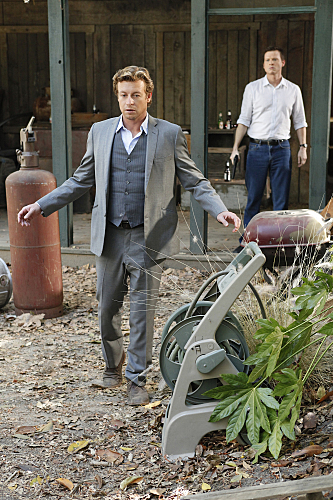 The Carnie scenes were fun. Also loved Lisbon saying, "Actually, people very rarely guess I'm a cop."  No kidding.  Is it just me or does her size and long hair with bangs make her resemble a 12-year old girl more than a cop? 

Do I have to mention that Jane distracts her with an elephant when he takes the car and ditches her?  Not her finest hour.  But as usual, she has Jane's back even when he seems to be working against her.  When trying to convince the Carnies to tell her where Jane went, she is honest with them.  "This job is all he has.  If he's arrested they'll take that from him."  Which I guess tells us why he sleeps at CBI most nights. 

Kudos to Lisbon for knowing when she is being lied to and following them to Jane.

We also learned how loyal Jane is to friends and family.  He protects his brother-in-law even though he hasn't seen him in years and isn't sure if he is guilty or innocent.  He even offers to get him to Mexico if he is guilty.

I'll admit I thought Landon's murderer was Melanie, the sister, not the wife.  Most episodes I usually figure out the guilty party, so it was nice to be surprised.  Jane's shooting was an obvious set up but fun to watch just the same.  (FYI: "Cackle bladder" is grifter slang for faking of your own death and refers to using a chicken blood bladder to simulate the blood loss of a violent death... in case you were wondering.) 

The cemetery scene at the end was my favorite.  Up until now it's felt as though the death of his wife and daughter has completely consumed Jane.  He deserves to move on with his life and this scene felt like a small step towards that.  Because that crime is at the core of the show, I'm glad the writers are finding other ways to visit it that aren't completely centered on Red John.

Did you love this episode?  Hate Lisbon's hair? Sound off now!

C. Orlando is a TV Fanatic Staff Writer. Follow her on Twitter.

Tags: The Mentalist, Reviews