Some of Family Guy's best moments involve Stewie and Brian as a dynamic duo, and that set-up made "Brian Writes a Bestseller" into an instant winner.
Brian has been writing and drinking for as long as Family Guy fans can remember. But he gets a dose of humiliation this week, as masses of his books come back, both intact and shredded.  As Brian declares that he will give up writing forever, Stewie rallies his canine friend and assures Brian that he can help, as he has a (shady and pedophilic) pal in the publishing industry.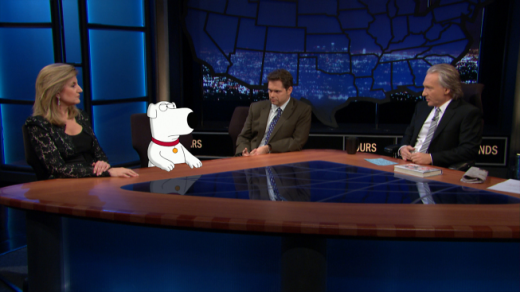 Once Brian quickly writes a vapid self-help book, it becomes a bestseller and Stewie takes on the role of Brian's long suffering publicist. 
Brian, often pedantic and condescending, gets drunk off stardom and quickly becomes a diva, hitting on young girls, demanding absurd things and berating poor little Stewie. 
The best part of the episode was when Brian appeared on
Real Time with Bill Maher
and traded barbs with both the host and Arianna Huffington. Certainly some of the best quotes came from Maher and Huffington's insults toward Brian's nature as a dog.
You've gotta love this show for its non-sequiturs, and the best one of the evening had to be the randy Penguin of Penguin Publishers.  With that, we present the top Family Guy quotes from a great half hour:
Brian: What the hell is your problem Zsa Zsa?
Arianna Huffington: What is yours, Snoopy? | permalink
Bill Maher: Help is such a strong word. How does this help people with cancer or in Darfur?
Brian: Well it's not really for that. It's for like, if you want a car or something. | permalink
Tom Tucker: Wish it, Want it, Do it. Am I pronouncing that correctly? | permalink
Stewie: What? Writing's the only thing giving your alcoholism any credibility! | permalink
Brian: You have to do some of the work yourself. That's why there are 50 blank pages. | permalink
Tags: Family Guy, Reviews
Want more Family Guy?
Sign up for our daily newsletter and receive the latest tv news delivered to your inbox for free!