In a totally awesome Family Guy episode, we find out that Lois made Flintstone-style porn, Stewie might be a "porn baby," and that maybe Mary Magdalene could've been a porn star.
In an irreverent and hilarious way, Lois gets star billing during "And I'm Joyce Kinney."  By trusting her favorite anchorwoman and spilling her darkest secret about being a porn star back in the 80's (with a great throwback to Forrest Gump), the entire town of Quahog ended up shunning Lois after Joyce Kinney, who was actually a "Joyce Chevapravatdumron" back in high school, airs the news over the evening broadcast.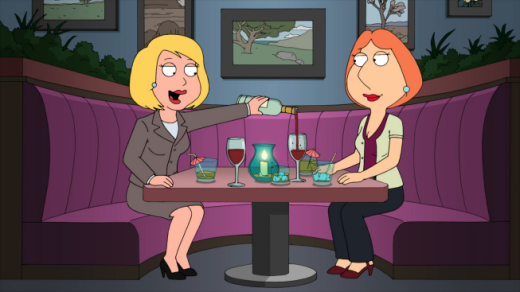 Although her family iwas surprisingly blase about the news, the Quahog church refused to let Lois attend their services until she made a stirring speech comparing herself to Mary Magdalene.  As Lois owned it by sharing "Quest for Fur" with the congregation, everyone cheered and invited the Griffin family back to the flock.
It was moving to see. Below, we've compiled the best Family Guy quotes from the episode:
Tina Fey: I'm better than Jesus!
Lois: Yes, Tina Fey, you're better than Jesus. | permalink
Lois: Who did Jesus hang around? Mary Magdalene. Who was she? A
prostitute. Which means if they had cameras back then, I bet she
would've done a porno. | permalink
Meg [to Chris]: Yea Griffin! Your mom's gross and nasty!
Chris to Meg: Yea suck it! You're a whore daughter! | permalink
Stewie: Good lord! Am I a... porn baby?! | permalink
Lois: No, you're a lady bigshot... like Miss Piggy! | permalink
Stewie [as he spots a baby] : BILF! Total BILF! Yeah, it's going
totally good... I got about six pacifiers now. | permalink
Tags: Family Guy, Reviews
Want more Family Guy?
Sign up for our daily newsletter and receive the latest tv news delivered to your inbox for free!