The Gallaghers are an admittedly unique and crazy little bunch. However, Debbie seems to be on a mission to step up the crazy.  On "Casey Casden," therefore," she went all out and stole a toddler.
Each week, it becomes more obvious that Debbie is growing up with deeper troubles than the rest of the Gallagher kids.  She craves a different bond, one that is not completely fulfilled by her siblings. Everyone suspects it and Fiona acknowledges it when she muses to Steve that she "hopes she's not f*cking up the kids."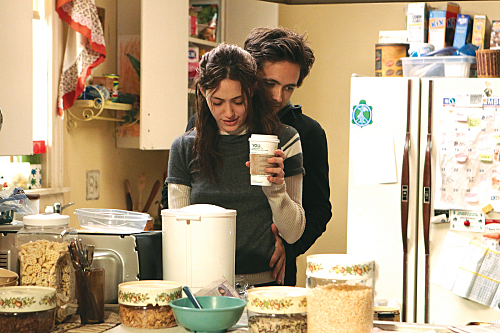 Last week, Debbie's world took a steeper downfall when they had to return faux Aunt Ginger to the home.  Everyone else used Aunt Ginger as a prop to help keep the family out of trouble, but Debbie formed an emotional attachment, one she was using to fill a void. 

This week, while at a birthday party, she watches a family playing together and gets jealous that they have parents who take care of them and she has absentee ones.  For some reason, Debbie thinks that stealing a baby will make it all better.

Fiona and Steve make the initial discovery and inform the rest of the siblings.  Lip devises a scheme for it to look like Debbie actually saved the kid instead of being the one who stole him.  Lip is the one running the show this time, even instructing Fiona.  It's a nice change of pace.  Fiona can only take responsibility for so much. 

The older brothers really took charge this week, whether it was stealing a water heater for the family, or stepping on Frank's hands when he is trying to steal Debbie's reward money.

As her own personal reward and a consolation prize of sorts, Steve buys Debbie a baby doll that she names "GingGing" in honor of faux Aunt Ginger.  She's a little old to pretend she's talking to a doll and the next day she refuses to go to school, claiming the doll kept her up all night because it had diarrhea.  She even spreads some peanut butter on the diaper for her own fake evidence.  Something tells me this isn't the last crazy behavior we're going to see from Debbie.

Elsewhere, temptation is at its peak.  First with Karen, creepily trying to seduce Frank by fellating a spoon, surprising him in the tub, and showing him her thong.  Later on, Kevin can barely hold back from a couple of floozies who are trying to entice him to have a threesome.  He says he's getting married and can't. 

Frank overhears and announces it to the whole bar, including Veronica's mother.  So now Kevin has no choice but to get extremely drunk, bite the bullet and actually propose.  Too bad we later find out that he's already married.  We'll have to wait until next week to find out the story behind that shocker.

Leigh Raines is a TV Fanatic Staff Writer. Follow her on Twitter.

Tags: Shameless, Reviews
Want more Shameless?
Sign up for our daily newsletter and receive the latest tv news delivered to your inbox for free!
More From TV Fanatic
On tonight's The Bridge, the search for Eleanor continues. Will she kill again before she's found?
On Extant, Molly reveals her pregnancy to John. However, Sparks' story isn't exactly a plausible explanation.
On Graceland, Mike, Briggs and the team pull out all the stops to get Paige back. Read our review of "The Unlucky One" to find out if they were successful.
On Suits, Rachel and Jessica's life choices seep their way into the business of the men in their lives, some of which only cause more problems. Read out review of "Litt the Hell Up."
---