Family Guy Review: "Trading Places"
by Kate Moon at .
The premise of  "Trading Places" should have been a promising one: parents and children switch places to prove which is more difficult. 
I was looking forward to the hijinks that only Family Guy could provide with the switcheroo.  Unfortunately, the episode proved disappointing, as the first half focused on Peter's determination to get his used dirt-bike. Let's break it down...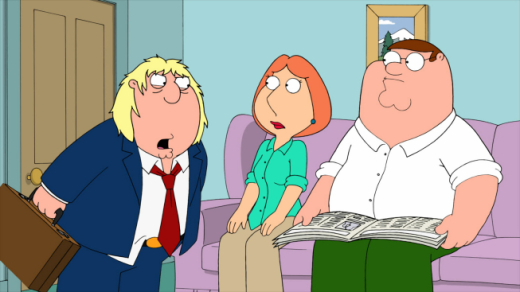 Although Peter's attempts to win this dirt bike set up the reason for Peter and Lois switching places with Meg and Chris, the actual process is tedious and not at all humorous. Yes, Peter proves to have some wit by tricking several of the other competitors into taking their hands off the dirt bike, but watching several middle-aged cartoon men sweating over the dirt bike is just sad.

When Chris and Meg decide to take the bike for a joyride, the episode becomes mildly more interesting.

After Peter's attempts to lecture his kids fail miserably, the adults decide to take on the roles of their kids while Chris and Meg become the parents.

 

I'm surprised that Lois wasn't more popular in high school because she routinely steals Meg's attention by being hotter and "cooler." Nevertheless, Peter and Lois are outcasts while Meg and Chris thoroughly enjoy their new roles. Meg as a gourmet cook? Amusing. Chris as an effective employee? Not so convincing.

In the Family Guy setting, it actually makes sense that Meg and Chris are more effective adults than their parents; it's a shame that Chris has a heart attack to return things to the status quo.

Overall, I had higher hopes for the episode, although, the non-sequitor gag with the mugger in a racist Asian mask was hilarious. So were these Family Guy quotes. Check them out now!

Tags: Family Guy, Reviews
From Around the Web