CSI Review: "Father of the Bride"
at . Comments
I'm beginning to have a love/hate relationship with this Nate Haskell storyline. One the one hand I'm excited to see the mayhem leading up to the season finale. On the other I'm sort of tired of it and see where everything is leading.
"Father of the Bride" earns kudos for an engaging but predictable plot, but a lot of what made me enjoy this episode were the guest stars and the solid character interaction.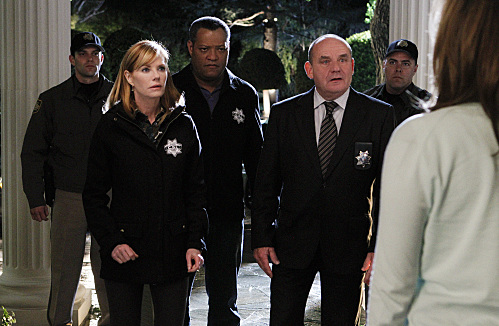 Ray is going to snap very soon. If the end of the episode is leading where I think it is, he'll probably snap within minutes of next week's opening credits.

Lawrence Fishburne is doing an excellent job of showing the slow progression of a man on the verge of crossing all his lines. In every scene Ray's agitation and growing inner darkness seeps into the foreground.

Even in a humorous moment when Henry mentions that Hodges is moving out of his mother's house, Ray remains tightly wound.

In fact, Ray was almost too tightly wound, but thankfully Catherine managed to step in to reign him back in. I'm sure it's not going to last, but I was just happy to see Catherine be the boss and a friend with enough intuition to see that Ray was on the verge of doing something detrimental.

Isn't it cool that Nick's stepped in as the resident bug guy?

I mean, Nick will never be Grissom, but having a fondness for insects myself I feel an odd sense of pride whenever Nick is on camera identifying time of death based on fly larva.

Tawny Kitaen stepped out of a time warp to make a guest appearance and add a little laugh. The character was an odd yet refreshing bit of fun in a fairly heavy story. And, my geekiness showed when she talked about the murdered nurse, asking, "Who's actually named Teagan?"

I wonder if the writers actually meant to toss out a Dr. Who reference there, or if it was just a happy coincidence?

Now, my favorite part of the episode, even though she didn't get much screen time, was the return of Louise Lombard as Sofia Curtis. I have been missing Sofia. I always liked her and was sad when the character disappeared from the show.

Apparently, Sofia is now Deputy Chief which is a pleasant promotion for her after that past nonsense Ecklie put her through. I really hope the character will stick around for the rest of the season, because I'm very interested to see how the character has changed and how she does business as Deputy Chief. And, you know, maybe if I'm a really good fan of the show she'll even return permanently next season.

Nate Haskell's brides are still scary insane. I like the idea that he sort of encourages them to kill each other off, making them easier to control and lessening the amount of dirty work he has to do himself. I do have to give him credit for excellent psychopathic management skills.

What did you think of this episode of CSI?

Tags: CSI, Reviews