It's about time, Entourage!
Last night's episode was utterly brilliant, from beginning to end. After weeks of waiting patiently for this season to heat up, this week the action took off like a shot ... through Carl Ertz's head.
What, in poor taste?
But before we get to the business of Vince's, er, business, we have the story of Ari and Dana Gordon. Not to root for the Gold's marriage to fail, but I really like him with Dana.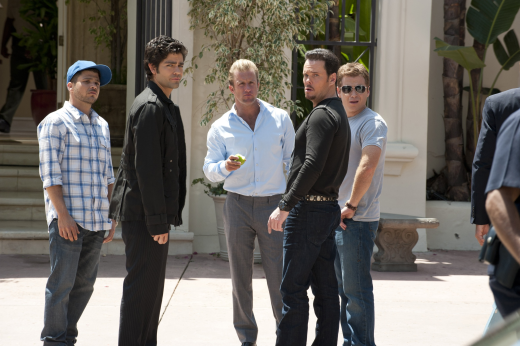 They're like an adorable, blackberry-wielding power couple. With potty mouths and lots of intimidated employees. The more we're shown how far gone Ari's marriage is, the easier it gets for us to wish he was free of the yelling and was just happy.

Except what would make him happiest is to have his family back. Oh the conflict...

At first when he was sitting in Bobby Flay's restaurant with Dana, I almost thought she was aware of the situation (because, as Shauna said, everyone knows who's buttering Mrs. Ari's bread these days). But, then it became clear that she would never have allowed herself to be used in such a way, and when she sped off I wanted him to go after Dana.

Obviously he can't fight for both women, but I wish he'd figure out which one he wanted and then dig deep for whatever fight is left in him at this point. When Ari told Vince, "I've got nowhere to be," it was a sad and genuinely vulnerable moment. Oh how the mighty fall, Ari. Hopefully we haven't seen the last of Dana, though, and they can put down the blackberries and call a truce.


The real action on "Whiz Kid" was in Vince's pants. Literally. When Drama tried to get them to all drink vinegar it was a sign of how desperate their situation was, even if he is the champion of "secreting substances out of his body." Ew. If Vince had done anything shady in Ertz's house, that would've been one thing, but for him to face having his career (and freedom) jeopardized for taking a few hits of weed would've been a crying shame. 

Luckily for him, Billy - the straightest arrow of them all these days - swooped in to save the day. Wasn't he supposed to be done with all the trouble? Call me naive, but I didn't realize that such a device actually existed nor did I have any idea what Billy was referring to at his house. I actually gasped out loud when Vince whipped it out in the men's room. A-ma-zing.

Though E always has to be the voice of reason, the fact that he didn't get pissed (pun intended) when Vince revealed he never took his fake junk off shows that he's still more of a friend than a manager. Granted, we could've probably all done without seeing the prosthetic penis being tossed about like a phallic hot potato when they found out he passed the test, but this is the kind of content we live for on this show.

Vince is right - this chapter is closed. It's time for them all to move on to clearer skies and bigger things. Maybe not everyone's ascent back to the top will be as easy (cough *Ari* cough) but with Air Walkers approaching, Turtle's new restaurant venture and Drama's series kicking off, it seems promising that the boys from Queens will get their feet under them again. I, for one, can't wait.

Tags: Entourage, Reviews
Want more Entourage?
Sign up for our daily newsletter and receive the latest tv news delivered to your inbox for free!
From Around the Web
More From TV Fanatic
It's getting crazy on Gang Related! Lines are being crossed by gangsters and officers, is anyone in the right?
On Rookie Blue, Andy assists Sam in a missing persons case. Elsewhere, an undercover operation to track down illegal handguns sends Chris scrambling to maintain control.
Join us for the rewatch of Gossip Girl Season 2 Episode 9 "There Might Be Blood." What did you think of this episode?
Duck Dynasty Season 6 Episode 5 was all about re-branding. Read on for our latest rundown.
---