Desperate Housewives Review: "Secrets That I Never Want to Know"
by Christina Tran at .
All good things must come to an end, right? Super cliché, but it certainly holds true of Desperate Housewives. The season premiere indicated that the women of Wisteria Lane are definitely bringing it one last time. The good in goodbye will seemingly be an apparent theme this final season.
The premiere picked up precisely where we left off last season. As Bree, Susan, Lynette, Gaby and Carlos disposed of Gaby's stepfather's body, I found myself waiting for the theme song of Pretty Little Liars to play. Honestly, I'd be lying if I said A didn't cross my mind as the phone went off. Luckily, it was just a call from "home."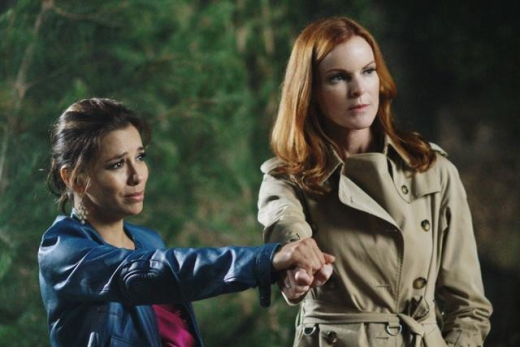 Although the housewives made a pact to keep what happened a secret, it definitely wasn't easy for all of them. While Bree and Chuck grew closer together since the incident, Chuck suspected that the girls didn't care too much for him. Then again, who would want to befriend a detective after clearly being an accessory to a murder.

Hiding the secret from Mike, Susan was not dealing well. At all. She nearly broke down

at that school pet burial

, which was a hilarious red flag for whether or not she'll be able to keep this inside.

With a guilty conscience, Carlos became short-tempered and wanted to seek absolution. However, even with Gaby's persistent help, he realized that he would never be okay. Gaby reassured him that he saved her life by taking another. It was a heartbreaking and touching scene, but this is Desperate Housewives. As with any dramedy and in true Desperate Housewives fashion, I'm sure that their secret will come to light in due time.

Tom and Lynette appeared to be separated all summer, but they hadn't told their kids yet. Last season, their fights were relentless and exhausting. I was glad that this storyline wasn't dragged out too much, as Tom and Lynette were both able to rip off the band-aid and let their children know of their new status.

Renee and her "ladies" tried to impress Ben, the new guy on Wisteria Lane. Although rejected at first, it's clear that Renee's not going to back down easily. I'm hoping that she finally gets an actual storyline this season with the charming new resident.

When Bree received her mysterious letter, the scene felt all too familiar. I was waiting for the creepy music to play and for Jennifer Love Hewitt to appear, considering she's relatively experienced with "I know/still know what you did last summer" messages. Who do you think is the author behind the unexplained note?

Overall, the season premiere was comprised of suspense, jokes and touching moments amongst the housewives. From the funny car theft scene to the adult housewives swim only scene, it is absolutely refreshing and nice to have the ladies back.

On another note, I should admit I was undeniably upset when I first heard over the summer that Desperate Housewives was coming to a close this season. Letting go is never easy... especially when it comes to guilty pleasures. Then again, "Secrets That I Never Want to Know" reminded me that the more things changes, the more they stay the same. And after this episode, I've realized I'm indefinitely ready for the Fairview farewell tour. I'll miss our favorite housewives dearly, but I'm looking forward to a promising end to yet another iconic show. Here's hoping to a final season of uncontrollable tears, laughs and much more!

Tags: Desperate Housewives, Reviews
From Around the Web