This week's Modern Family was supposed to focus on Buffalo Phil's (sorry, I can't stop calling him that) dream to walk on a tightrope, but Mitchell stole the show, as "Phil on Wire" brought to us the dangers of extreme dieting with your partner.
To show his solidarity, Mitchell decided to go on a juice fast with Cam. Worried about Cam's emotional stability, Mitchell laid out the six stages of the Cameron Tucker meltdown as follows:
1. The clean sweep. 2. Attack Mitchell. 3. Soap actress routine. 4. A rush of epiphanies. 5. Despair. 6. Rage.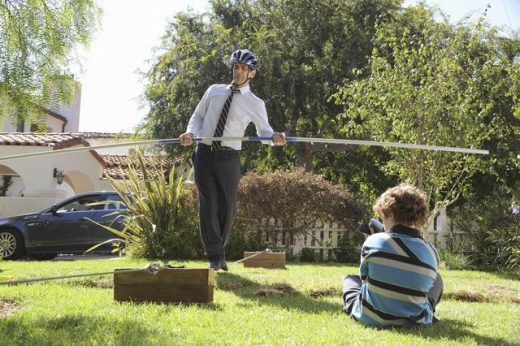 Mitchell was so worried about this epic meltdown Cam was sure to have at his boss' function that he failed to pay attention to his own shaky emotional state. I have to say, as much as I enjoy a good dramatic Cameron meltdown of diva proportions, it's nice to throw in a Mitchell hissy fit once in awhile to change things up.

Despite a wonderful performance by Mitchell, the return of Cam's biker shorts, Phil as an acrobat, and the adorableness that is Stella the French bulldog, I gotta give it up to my girl Claire Dunphy. Ninety-nine percent of the time Claire is insanely neurotic and while it's often funny, it can sometimes make me want to feed her a valium, or four. However, give me Claire versus the high school security guard any day of the week.

Maybe it was just a personal appreciation, but didn't everyone have an irritating hall monitor, school security person that they remember to this day? You know, the one who took everything so seriously that trying to go to the bathroom without a hall pass was like the worst possible offense? Relax, I just have to pee!

Granted, we didn't have plastic handcuffs, but you better believe that I've pulled a Claire and ripped up a few parking violations back in my day.

While we're on the topic of Claire driving her kids to school, let's be honest: there is just NO WAY a girl as superficial and image conscious as Haley Dunphy would let her mommy drop her off in the mini-van SENIOR YEAR. She would beg a multitude of friends before riding shotgun up in that. No offense to minivan owners out there, this is purely me calling out our little Haley.

Now, go make sure that none of your cupcakes are actually doggie treats and check out our favorite quotes from the episode!

Leigh Raines is a TV Fanatic Staff Writer. Follow her on Twitter.

Tags: Modern Family, Reviews
Want more Modern Family?
Sign up for our daily newsletter and receive the latest tv news delivered to your inbox for free!
More From TV Fanatic
Scott decides to get tough on Teen Wolf after rescuing his Beta by declaring he won't sit back and watch more deaths. Find out what else went down in the review!
Heather and Tamra consider making peace with Shannon on The Real Housewives of Orange County. See what went down in our TV Fanatic review!
On Murder in the First, the trial of Erich Blunt reaches its conclusion. But what is the verdict? Find out when you read the review.
Andi Dorfman chooses between Nick Viall and Josh Murray. Find out who she chose now on our The Bachelorette review!
---