This week's episode of The Amazing Race, "We Love Your Country Already; It Is Very Spacious," was filled with many of the things we love about the show. Exotic locations, beautiful scenery, emotional moments and even a fun twist at the end.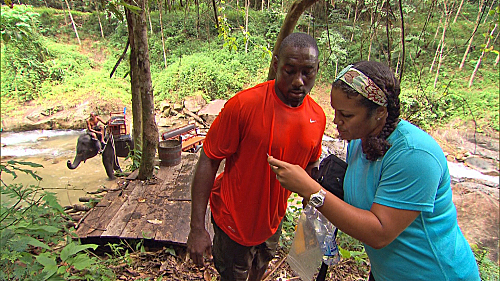 Unfortunately, there wasn't too much drama. So long as the teams could follow instructions – admittedly, not a guarantee – there were only minimal opportunities to gain ground on anyone in front of you.
The prime example of this tenant for this week was Amani and Marcus. The duo got off the plane in sixth place, did both challenges flawlessly and finished seventh. The only reason they dropped in the standings were because of two poor cab rides. 
Point being, I would hope that the challenges live up to their name and are actually challenging enough where if teams complete them quickly, they gain ground on ones who don't. None of the teams this week struggled significantly (if at all) with the Roadblock or either leg of the Detour.
Our moment of drama this episode was provided by the twist at the end where teams had to carry their beds a significant distance from the transportation truck and deliver them to the Pit Stop. The wrinkle that two teams, Justin and Jennifer and Bill and Cathi, didn't realize was that they had to pay their truck driver for the transportation.
Their errors allowed Andy and Tommy to slip in to first place (the second time they've won a leg because of another team's error) and gave us Amani and Marcus fans some hope that they would not finish last.  We were not rewarded, but at least it was interesting.
Despite the lack of drama, this week's episode made up for it with some great moments. The non-elimination aspect of this leg led to a great scene with Amani and Marcus tearfully being thankful for being left in the race. They want to use their experiences to help them set a good example for their special needs child.
Similarly emotional were the great scenes at the children's school with the racers building toy trucks for the kids. All four teams who did the Not Grown Up challenged were touched by the moment, expressing their satisfaction with helping out the kids. Jennifer said she was going to have her kids make the trucks in class and Tommy commented on how great it was that the kids can play with something so simple.
Finally, there is always something energetic when the race makes its way to Africa and this week followed that trend. Certainly the moments in the tobacco warehouse were filled with awesome energy from the workers.  What a great scene at the end with Marcus finishing the Roadblock last and the workers encouraging him on.

More from this episode:
Can anyone recall a single thing Sandy has done to help her team? Jeremy might as well be running the race by himself. At the Detour this week Sandy was frequently shown just watching Jeremy work.
Not that I've ever been on the race, but when I'm theoretically picking which side of the Detour I'd do when the teams are choosing, I always adhere to the mantra that you choose whichever side is cool. Bungee Jump or Long Walk – you jump.  Play with African school kids or sew – you play with the kids. Doesn't matter what the actual challenge is.
She's a very nice person and obviously a hard worker (she kicked useless Sandy's butt in the bed carrying) but Cathi's voice is hard to listen to.
Tags: The Amazing Race, Reviews, Reality TV
Want more The Amazing Race?
Sign up for our daily newsletter and receive the latest tv news delivered to your inbox for free!
From Around the Web
More From TV Fanatic
It's getting crazy on Gang Related! Lines are being crossed by gangsters and officers, is anyone in the right?
On Rookie Blue, Andy assists Sam in a missing persons case. Elsewhere, an undercover operation to track down illegal handguns sends Chris scrambling to maintain control.
Join us for the rewatch of Gossip Girl Season 2 Episode 9 "There Might Be Blood." What did you think of this episode?
Duck Dynasty Season 6 Episode 5 was all about re-branding. Read on for our latest rundown.
---