While part one of tonight's finale delivered on the much anticipated birth of Marshall and Lily's son without too much misdirection, "The Magician's Code Part Two" had a few tricks up its sleeve that will keep us wondering into next season. 
At the opening of the episode, narrator Ted announced to his kids that they were going to hear the story of a wedding day that went horribly wrong. First thought, of course, was that he was talking about Barney's nuptials to Robin (as we later would learn).
As the half hour progressed, however, it was no longer so cut and dry as Ted, on the advice of Robin, called Victoria, who later showed up in her wedding dress and drove off into the sunset with her former flame. 
Prior to that turn of events and the other revelations made at the end of the episode, we caught up with Marshall and Lily, who were relishing having their new son home, but also confounded by Marvin's unpredictable bladder. Ted's line about Marshall ("That guy is a dad!") was just epic and so very true to life.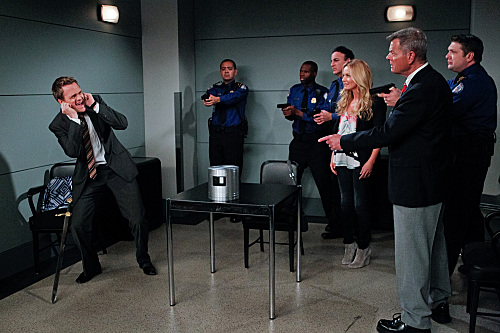 Barney's run in with the TSA at the airport, on the other hand, was a bit of a departure from reality, but just another typical day in the awesome life of Barney Stinson. You just knew the magic trick had something to do with his plan to propose to Quinn, but the build up and eventual pay off were still executed to perfection. Barney's magical stylings accompanied by his disbelieving "whats" were one of my favorite parts of the finale. 

Robin and Ted shared some more quality one on one time, but it was the scene where Barney asked Robin if she was okay with his decision to marry Quinn that really took the gravity of the finale to another level. As we closed out another great season, we were lead to believe that Ted had finally met the mother of his children and Barney and Robin at last decided to tie the knot. Knowing this team of writers as we do, though, I wouldn't be so quick to close the book on those mysteries just yet.

As always, I look forward to reading what you all thought and be sure to check out the best How I Met Your Mother quotes this week offered up. Until next season, may your summer be filled with the highest of fives.

Tags: How I Met Your Mother, Reviews