Sometimes I give Modern Family a little heat and I have to remind myself that what makes this show so unique is the amount of heart it possesses. In "Planes, Trains and Cars" you could feel the love between all of the characters, particularly the spouses, even more than usual.
Coming off of an episode that I personally was not a fan of, I can honestly say that, while not sidesplittingly hilarious, this outing did leave me with a smile.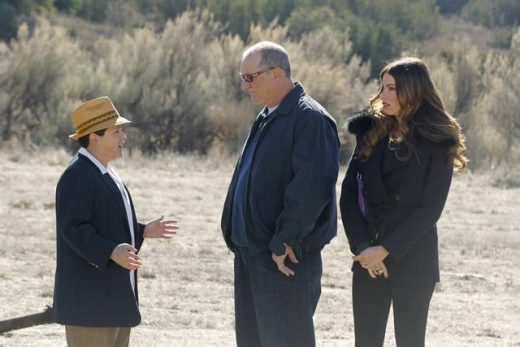 evin Hart, who we first met in the episode "Treehouse," returned for a cameo as Phil's neighbor. When car shopping, he convinces Phil to stray from the standard Cadillac lease and get the sports car he's been dreaming about since the days he had a perm. Wait... Phil had a perm? Nevermind, I totally believe that. Writers can we please get some flashbacks up in here?

Phil gets the car despite the fact that he knows Claire is going to be pissed at him. Why is everyone so afraid of their wives on this show? You're trying to sell me a Katrina car man! What a lame excuse from Hart's character when really he was too afraid to ask his wife if he could get a convertible!

For more hilarious quotes, check out our Modern Family quotes section.

Well, surprisingly Claire didn't yell at Phil. Maybe it's because she's sick of being the strict one all the time. She let Phil take the mini van and do the errands. Claire got to go to the beach and play! I'm glad she allowed Phil to figure out his own mistake and I'm glad they did cartwheels together and made a vow to go to the beach as a family more often. 

Elsewhere: Jay was obsessed with going to his reunion in style because he claimed he was a legend to these guys. Gloria rolled her eyes at this. Manny was just excited for the spa and I don't blame him. As it turns out, Jay was actually kind of a geek and he wanted to go back and show off how well he'd done in life; i.e. parade around his hot wife.

Once Gloria heard that, she was ready to get on that scary ass M.A.S.H. helicopter for Jay. She was more apt to make the trek there when Jay was vulnerable than when he was just being arrogant.

I love Jay's observations of Manny. I was cracking up when Manny was bugging out that the amenities change when it goes from an "H" to an "M" in Hotel/Motel and Jay just looks at him and is like: "Kid, you were eating cereal from a bucket when I met you," telling him to slow his roll. Manny, that vibrating massage is not exactly the kind of massage you signed up for, I'll give you that.

I also loved that Lily's bunny had a boyfriend. Very cute touch. I also understand her panic about losing bunny on the train because it is a completely relatable experience. I left my piglet in a restaurant when I was five and luckily they still had him when we went back. I may or may not still keep him in my bed to this day.

So, how did everyone else like this episode? Would you like to see some flashbacks of Phil in his perm and maybe those skinny jeans Haley and Alex poked fun at? Hit the comments!

Leigh Raines is a TV Fanatic Staff Writer. Follow her on Twitter.

Tags: Modern Family, Reviews
Want more Modern Family?
Sign up for our daily newsletter and receive the latest tv news delivered to your inbox for free!
More From TV Fanatic
On tonight's The Bridge, the search for Eleanor continues. Will she kill again before she's found?
On Extant, Molly reveals her pregnancy to John. However, Sparks' story isn't exactly a plausible explanation.
On Graceland, Mike, Briggs and the team pull out all the stops to get Paige back. Read our review of "The Unlucky One" to find out if they were successful.
On Suits, Rachel and Jessica's life choices seep their way into the business of the men in their lives, some of which only cause more problems. Read out review of "Litt the Hell Up."
---