Happy Freedom Day! Futurama keeps trucking on even when everyone's in a food coma and watching fireworks, except for me, intrepid TV critic. I never rest!
"The Thief of Baghead" was a Bender-focused episode, as this character tried to fell an actor who steals people's souls... er, life forces, just by casting eyes upon his horrifying visage.
The story felt oddly segmented: Bender-as-paparazzo kind of just disappeared shortly after the Langdon Cobb story came along. Perhaps it was to all just to use celebrity parody names like "Selena Go-Bot" and "Parts Hilton."  Sure, Fry, Amy and Hermes got their life forces sucked out, but they could have really livened up this episode. Something felt like it was missing – and it was definitely them.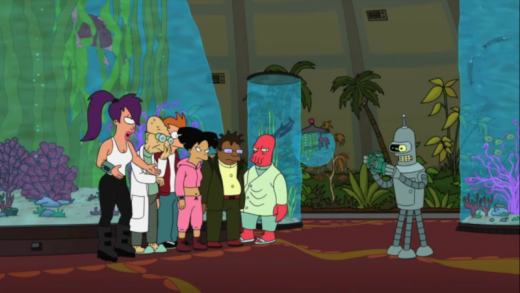 Is Calculon really dead? I hope not!

Phil LaMarr's Orson Welles voice is great, and should not go away, even if Orson Welles' head is still around. Well, he is a robot, so he can just come back. Until then, let me let out an elongated "DO NOT WANT" scream in his honor: NOOOOOOOOOOO!

Maybe it was the ribs and potatoes from my Independence Day barbecue coursing through me, but there just weren't a lot of hilarious moments here.

The main cast barely did anything, or so it seemed, leaving secondary cast and one-off characters as the focus. It's not even that Zoidberg and Calculon can't help drive an episode with a few funny Futurama quotes because they have before, but the way things progressed just felt unimpactful. Langdon Cobb was totally ridiculous and never felt grounded at all. Considering that the snooty British actor role has already been filled by Calculon, nothing he really did felt all that entertaining.

So no, it wasn't really the strongest episode of the show. But hey, they can't all be gems, and it was a good enough excuse to get away from people for a while. Thank you, Futurama! I mean, it could have been better, but it sure could have been worse: I could have NOT been watching a new episode of Futurama!

Tags: Futurama, Reviews
Want more Futurama?
Sign up for our daily newsletter and receive the latest tv news delivered to your inbox for free!
From Around the Web
More From TV Fanatic
It's getting crazy on Gang Related! Lines are being crossed by gangsters and officers, is anyone in the right?
On Rookie Blue, Andy assists Sam in a missing persons case. Elsewhere, an undercover operation to track down illegal handguns sends Chris scrambling to maintain control.
Join us for the rewatch of Gossip Girl Season 2 Episode 9 "There Might Be Blood." What did you think of this episode?
Duck Dynasty Season 6 Episode 5 was all about re-branding. Read on for our latest rundown.
---