"That's Not What They Call It in Amsterdam" returned Two and a Half Men to winning form, which is what happens when the focus is placed squarely on the sitcom's core characters.
After a breakup, it can be hard to get back on the horse, or back into the game, or any other number of cliches. In response, Alan and Lyndsey tried to make Walden happy and cure him of his apparent loneliness. However, that plan backfired in the most hilarious of ways.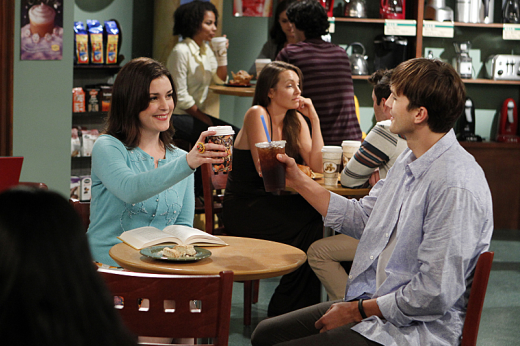 Are you familiar with the saying "Show me your friends, and I will tell who you are?" After this installment, it's pretty safe to assume that Lyndsey is crazy. Not "Rose" crazy, but nevertheless, she and her friends need to see a therapist ASAP. Not one of them looked or acted sane.
Yes, Rose is back and, yes, she is still as nuts and creepy as she was before. From the moment I saw her, there were two things running through my mind.:
RUN, WALDEN, RUN!!!
The song "Crazy" by Gnarls Barkley. 
Take that as a compliment, Melanie Lynskey. You play the role to perfection.

Heck, Rose even stalked Jake, who is living on an army base, and she knew that he was not dealing well with the obstacle course. How scary was that?!?

If I were Walden, I would steer clear of Rose. Granted, this advice may come a bit late, as he was tied up, ball-gagged and about to re-enact a scene out of 50 Shades of Grey by the end of the evening. No matter how good she might be in bed, this is a woman who is probably responsible for shoving her last neighbor/boyfriend in front of a train. So, it is better to avoid her at all costs.

I really want to see more of this Rose storyline. I'm glad Walden is clearly over Zoëy, but he is not in the clear yet, as he is now in the evil hands of Rose.

So what are thoughts on tonight's installment? And what do you think Rose did with the leaf-blower? Discuss as you visit our updated Two and a Half Men quotes section.

Tags: Two and a Half Men, Reviews