"Flight Risk" was centered around a plane crash that was caused because of a murder that was a result of selling drugs.
No, wait, it was because the drug smuggling led to Cooper sabotaging a plane flight full of lawyers trying to take down a huge food company... I'm missing something... Now I'm getting all confused again. You see, I love this show, it always seems to mess with my mind a little bit. 
This episode had many twists and turns, more than we've seen all season. Granted, I knew who the killer was right off the bat, making everything else that was added seemed like a bonus.
We also saw more of Watson's struggles as she tries to break through to Holmes and know him on a more personal level. But before I get to that part, let me first discuss this week's investigation.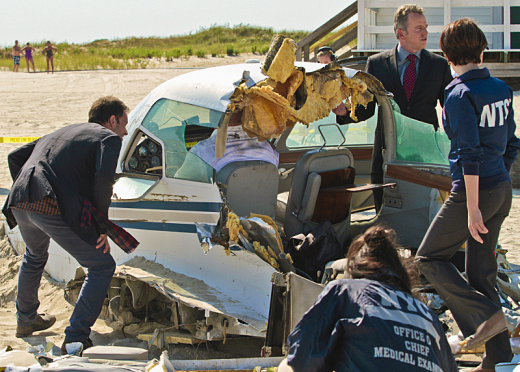 In the beginning we saw that there was a plane crash on the beach and because of the pattern this show has instilled in us viewers, I knew there was going to more to it. Watching Holmes awkwardly walk and examine each and every pile of the wreck was hilarious and intriguing. I was looking just as intently as Sherlock was to see if I could find what details he was unraveling - but I did not. I should leave the detective work to the professionals. 

Upon discovering that one of the victims was murdered and his body was planted in the plane, I thought this was going to be the twist. I was wrong... again. I normally don't enjoy being wrong this often but when it comes to Revenge and Elementary, I don't mind. I rather enjoy being made for a fool when it comes to television.

When we met Charles Cooper (aka Mr. Boss Man), I knew it was him. He played too innocent at the beginning, he was TOO shocked about the plane crash and the murder. Is this Sherlock rubbing off on me? I sure hope so.

Here is what got me: they were able to put drug smuggling, murder by a wrench, plane sabotaging, glue and three dead lawyers in one case in the span of 43 minutes. That's extremely impressive and it was overly entertaining. It all came down to glue. Who knew it would be such a small thing? It's perfect.

If I had to say what the most valuable asset this show has I'd say it was the element of surprise. It does it so well and the writers make it so that you can come to the same conclusion if you're looking for it. It works very well in Elementary's favor. 

Moving on to Watson and her dinner date with Holmes' father... I was pleasantly surprised to see that there was a man waiting for her to dine and I was shocked to find out that it wasn't him. Instead, it was an old actor friend of Sherlock's.

Good one Sherlock. Again. 

My favorite part of the episode was seeing Watson react to figuring she had been played on by Sherlock. Her line said it best: "We're still strangers." We can all assume now that Joan is definitely becoming more personal with Holmes than she probably has been with her past clients. He intrigues her. There are so many unanswered questions about Sherlock's past and I, too, share the same desire to learn more about him.

My favorite line of the night? "I know about Irene"

If you're a Sherlock Holmes fan (book or movie), you know how big of a role Irene Adler plays in his life. I couldn't be more thrilled that they've already starting to bring her name and character into the story. Not knowing how it'll play out has me wanting more.

Overall, this episode was pretty decent. I predicted that Cooper was going to be the killer but the depth of the case is was what kept it interesting. 

Next week it seems we will get more information on Irene Adler and a huge case with five murders. 

Tags: Reviews, Elementary