If a relationship begins with a lie, what is the expected lifespan of such a relationship?
That is a question that "One Nut Johnson" posed to viewers tonight. Even if the lie is a harmless one or it was for a good reason, how much longer can the lie hold up.
Walden is lonely. He knows that his money is a likely hindrance on his path to find love. So he takes the next logical step; take his money out of the equation.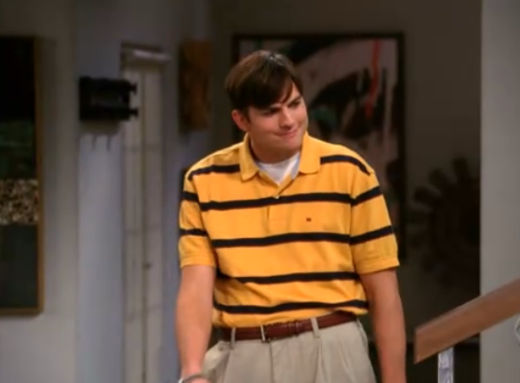 He basically becomes a slightly more handsome and likeable version of Alan. Sure enough, he gets a girl, who is smart, attractive and does not know about his ranking on the Forbes 500 list.

I am certainly sure that right there are lot of people right now, female or male, who are wealthy and can't find love because of their affluence, which begs the age-old question: Is money better than love..? 

By the end of the half-hour, Walden and Alan have switched places, Walden now the one wearing corduroy pants, and Alan the one with a $50,000 watch.

Walden decided to leave his beach house behind, and move in with Kate, played by the lovely Brooke D'Orsay. So now, Kate  is now living with Walden unaware of his billionaire status, I just wonder what happens when she really believes him that he really is wealthy.

Alan was behaving like a "fizzy douche" because he got to play the rich guy, if you recall, he has taken on the persona of Charlie on numerous times, and tonight he did the same , and provided some great lines, which you can check out here.

At this point, Angus T. Jones has become comedic fodder, as his character now dating a woman with whose son is now old enough to buy him beer. I just hope that his recent "outburst" does not affect his character's  storyline.

Despite his new persona, Walden can just leave everything behind, he is definitely going to have to stop being Sam Wilson, and become Walden Schmidt.

Side note here- Brooke D'Orsay has appeared on the show before as one of Charlie's numerous flings.

So what do you think, is Sam Wilson still going to be alive for a while or will Walden come clean?

Tags: Two and a Half Men, Reviews
Want more Two and a Half Men?
Sign up for our daily newsletter and receive the latest tv news delivered to your inbox for free!
More From TV Fanatic
Power struggles ensue all around Chester's Mill on Under the Dome. Lives will be put on the line.
Scott decides to get tough on Teen Wolf after rescuing his Beta by declaring he won't sit back and watch more deaths. Find out what else went down in the review!
Heather and Tamra consider making peace with Shannon on The Real Housewives of Orange County. See what went down in our TV Fanatic review!
On Murder in the First, the trial of Erich Blunt reaches its conclusion. But what is the verdict? Find out when you read the review.
---