Family Guy Review: Crazy Little Thing Called Love
by Carter Dotson at .
There's a joke in the opening credits of "Valentine's Day in Quahog" that says this is "Further evidence of Family Guy's decline."
Sure, the later era of this series can be mediocre. But, if anything, this episode was actually evidence that this show still has a lot to work with and can be legitimately hilarious and enjoyable.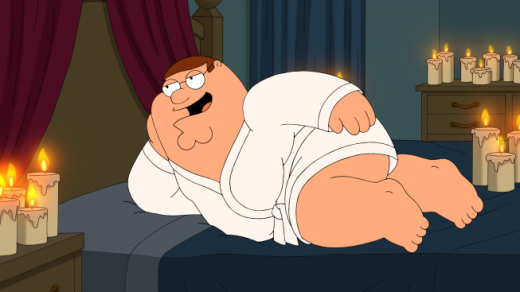 The half hour was a parody of the movie Valentine's Day, with many stories centered around individual characters. It was hectic and the intercutting of each sometimes made it hard to keep track - but the brevity of each segment also helped to make them all work. There were still occasional cutaways and referential humor, but each story had to make its point quickly, and it felt like the jokes and funny lines just kept on coming.

But it was the alternately sweet and disturbing quotients that carried this one. Each story had a sentimental aspect to it, what with the theme of love on Valentine's Day, but either a disturbing undercurrent or a twist, like Quagmire as Glenda Vajmire hooking up with several women... at once. Or Meg going on a sweet date with a guy.

Granted, he stole her kidney halfway through it, but whatever works, girlfriend. Herbert finally got to express his love for Chris by proxy. It was a combo that fit very well, though Peter and Lois having an undercurrent of marital problems - while spending a romantic day in bed together - was just depressing. I doubt the show would do it, but actually splitting them apart would be... interesting. Maybe in the series finale. It would be dark.

I have a crazy idea: maybe the reason why this sitcom can seem stale at times is in part because it gets caught in a format rut: of the intro sequence setting up the A story with a B story intercut between; this episode and installments that focus on Brian and Stewie have a greater liveliness to them.

But, really, what made this tick was that there was an intelligence to the established characters. The situations were ludicrous, but all the characters felt like they acted in the ways that they are expected to. The episode is credited to Daniel Palladino (husband of Gilmore Girls and Bunheads creator Amy Sherman-Palladino), and as the intro said, he was a writer on Who's the Boss? It's digging deep for a reference, but including every single girlfriend Brian has had (including Seabreeze!) fits the bill too.

This was just all-around a well-constructed run-through for the series. They may be self-deprecating and joke about their decline, but they can still pump out a winner. And of course, check out our Family Guy quotes for the best from tonight's episode.

Tags: Family Guy, Reviews
From Around the Web