After months off the air, Grimm finally returned with "Face Off."
And it picked up right where it left off in "Season of the Hexenbiest."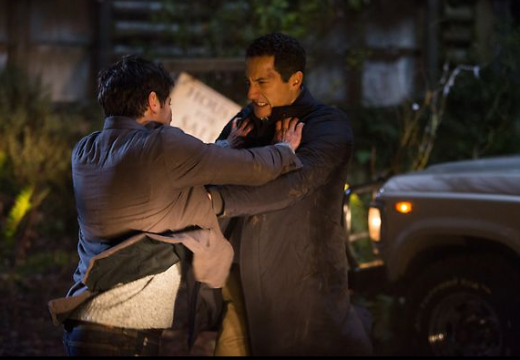 "Face Off" was really a culmination of payoffs all of us have been waiting over a year for. Juliette and Renard's actions are beginning to make some sense, Adalind continues to be a great villain, and, most importantly, Nick and Renard finally tip their hands to each other.
Juliette and Renard's fun times were incredibly difficult to watch. I was mostly suffering from second hand embarrassment as their aggressions towards one another kept escalating and growing more awkward. The intense feelings they share is one thing, but it ended up translating into what looked like the beginning of BDSM gone wrong. They clearly needed a safe word when the bullets started flying.
Leave it to Rosalee to piece together what's afflicting Juliette and Renard after being back in town for all of a few hours, and, might I say, it's wonderful to have her back in the mix with the boys instead of on the phone far away. Naturally, the purification potion is causing Juliette and Renard to have feelings they cannot control, and if something isn't done soon one of them will end up killing the other.
Adalind continues to work with the royals, and is now working the next part of her plan: pregnancy. However, the paternity of the baby is questionable because of the expediency of it.  Is Grimm trying to say Renard is the father even though it only feels like a few days, at most, have passed since her encounter with Renard? Adalind used to be a creature, but she's human now, and pregnancy tests usually take some time to show up positive.
This leads me to wonder if Adalind is actually pregnant with a different royal child.
Nick and Renard's meeting, aside from being cut short, was everything I could have hoped for and more. The reference back to the pilot with the house in the woods played up the perfect amount of symmetry. Nick is no longer fearing who he is or what he's seeing, nor is he alone in all of it; he's figured out how to survive on his own terms.
In typical Grimm fashion, we were left with very little answers during this meeting aside from Nick getting his key back; nevertheless, one of the more pressing manners is to stop Juliette and Renard's fatal attractions so heading back to the spice shop to get it all under control is probably for the best.
Finally, I really want to single out David Giuntoli. The man was awesome tonight as he took Nick through the emotional ringer as Nick went through rage, heartbreak, and more. He did some of his best work tonight.
A Few More Thoughts and Questions:
Monroe is still the best sidekick ever, and his reunion with Juliette was adorable.
Will the purification potion show what a Grimm looks like (if they have one)?
Juliette suddenly seemed to care about Nick again as he's suffocating on the spice shop's floor.  Are her memories of Nick finally returning now?
Renard inside the trailer feels so wrong.
Nick McHatton is a TV Fanatic Staff Writer. Follow him on Twitter.

Tags: Grimm, Reviews
Want more Grimm?
Sign up for our daily newsletter and receive the latest tv news delivered to your inbox for free!
More From TV Fanatic
On tonight's Gang Related, Ryan was forced to make a difficult decision. Which side did he chose?
On the latest episode of Satisfaction, Neil learns an important lesson about being honest with himself from Adriana while Grace struggles on her new job. Read on for analysis.
On Rookie Blue, Oliver turns down extending his contract as Acting Staff Sergeant until Duncan's dismissal hearing turns unpredictable. Read on for more.
On tonight's The Bridge, Marco is made an offer that he initially refuses. Will he agree to go after Fausto?
---