Tensions were high on this week's episode of Shameless. In "Order Room Service" Fiona looked into living in Michigan with Jimmy, but received some surprising news.
Frank was looking for his latest scheme and found help from one of his sons.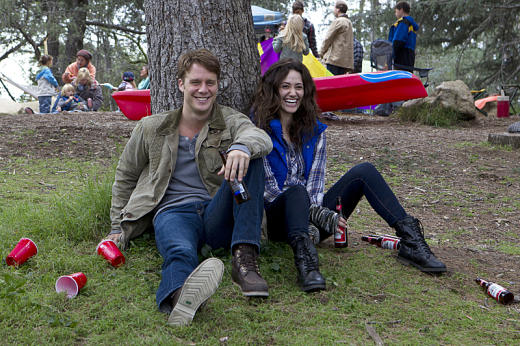 After the disaster that was Frank's time on the public speaking circuit, he was once again kicked to the curb. I guess the gay marriage advocates and conversion therapy supporters realized that Frank Gallagher wasn't worth all their time, money or effort after all. 

Frank knows he's not welcome in his house since the custody battle (didn't Jimmy change the locks?). With Karen back at Sheila's, Frank couldn't seem to find shelter at any of his usual haunts. Even the train's not an option these days! Who do you think smelled worse in that train car, Frank or the usual bum who claimed it as his territory? 

Your turf? What is this West Side Story? | permalink

Carl and Debbie have always been the ones to forgive Frank first, but Debbie has been less forgiving since the incident when Frank broke her log cabin replica. Everyone knows Frank told Carl he has cancer, but Carl doesn't seem to fully process that it was a hoax. He offered to break into his former foster family's home. It was a demented but nice bonding experience for father and son as Frank reminisced about his first heist with his dad. 

However, Frank really gave everyone a pleasant surprise when he took the blame for the whole heist and got arrested instead of Carl. Part of me knows it's partially because Frank will have a place to sleep and eat if he's in jail, but he did ultimately do the right thing. You could see the shock on Lip's face as he lamented that hell froze over. It's a good thing Lip witnessed that too, because he'd had a hell of day with all of the Karen and Mandy drama.

Karen is out of her coma but she has no short term memories or emotions. Mandy's responsible for this and as much as Karen was a crazy raging bitch, what Mandy did is permanent. At this point I hope Lip is rid of her for good. I think he needs a new girl altogether. Also, how the hell did she not realize Ian and her brother were hooking up? Poor Ian, I feel terrible for him right now. He too, can do far better than Mickey.

The person who is the most screwed on Shameless right now is Jimmy. Will we ever see him again? He should've picked up when Estefania called but it's too late for that now. I think Beto was sad to see him board the boat, knowing what fate might await. It took Fiona a hook up with her hot boss to realize she wasn't that mad about Jimmy's decision to get a studio apartment at med school. It would be hard to uproot the whole family. Jimmy's comment about living with her in the slums was a low blow though. 

I got sucked into your world. I bent to your rules. I just assumed that'd we'd eventually decide how to move forward together like normal couples do. But there never was a "we." What have I been doing? Cooking, cleaning, doing laundry, and living together in a goddamn slum! | permalink

What did you think of the latest episode of Shameless? Any predictions for the finale?

Leigh Raines is a TV Fanatic Staff Writer. Follow her on Twitter.

Tags: Shameless, Reviews
Want more Shameless?
Sign up for our daily newsletter and receive the latest tv news delivered to your inbox for free!
More From TV Fanatic
This week on The Last Ship, Danny gets sick and the crew begins to panic. Is it the virus? Meanwhile, Rachel's vaccine trials continue to fail.
Who was able to successfully problem solve on The Rachael Ray Show this week? Find out now in our review of Food Network Star.
The Masons are reunited on Falling Skies Season 4 Episode 6. Will it be a happy or contentious reunion?
What took place on The Real Housewives of New Jersey Review this week? Read our rundown to find out!
---