"The Way of the Ninja" was a not a ninja movie, but Castle Season 6 Episode 18 did its best to replicate one. 
To be honest, I've never even seen a ninja movie, so if the killer had been the circus knife thrower the Great Throwdini, I still would have been entertained.
But nothing beat the look the Castle's face when a ninja appeared out of nowhere, took the murder weapon from his hand and disappeared in a puff of smoke.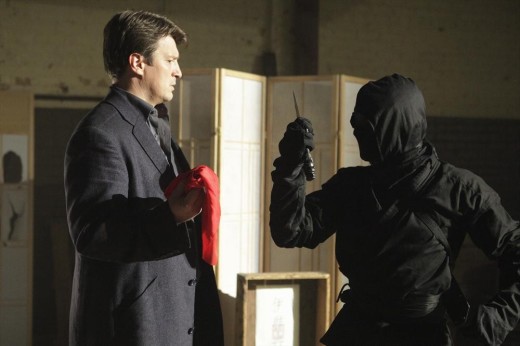 Coming off of the highly dramatic Castle Season 6 Episode 17 from two weeks ago, this episode was about as light hearted as they come - and I'm not complaining a bit. There was plenty to smile about here, starting with Perlmutter's snide remarks about Castle's lack of post-mortem knowledge filling several books to Beckett debunking Rick's ninja theory.
Rick's glee quickly turned to abject disappointment when he thought he might be wrong…
Castle: The killer can't be a ballet dancer because it'd just be such a huge let down.
Beckett: Of course, we can't let facts get in the way of a good story.
What fun would that be?

It was great to see the boys get their own adventure as they entered the hostess bar. Ryan was hysterical as he jumped when the girl sat on his lap and couldn't move her off fast enough. Let's not even talk about his karaoke. 

Even Castle's indignation at being charged $6,000 after being kicked out of the club was comical but, hey, that's what happens when you want to play big shot with your black card. Eventually the bill comes due.

But that price was nothing compared to what he was going to pay for not calling Kate. 

I really expected to enjoy that part of the story more than I did. Maybe it was because we never saw Carly or any of her visit with Kate but the whole segment fell flat for me.

Castle's suggestion to have a promise to not become boring written into their wedding vows was kind of lame. He's had two failed marriages. I was hoping for a little bit better insight.

At least Beckett appeared happy with his response and there was kissing afterwards... so I'll be happy with that. 

Jade's murder was actually quite sad. She and her sister escaped the murder of their entire family to start a new life, only to have it cut short when Jade couldn't let go of the past. Was this foreshadowing for Beckett's handling of Senator Bracken in the future?  

In the end, the ninjas may not have been "real ninjas" but they were close enough in my book to make sure things never got boring.

Your turn, Castle fans. Were you happy with Rick's response about avoiding boredom once they're married?

Here is your first look at Castle Season 6 Episode 19:

C. Orlando is a TV Fanatic Staff Writer. Follow her on Twitter.

Tags: Castle, Reviews