The middle of March is traditionally a kind of 'blah' time, at least in the colder parts of the country.
As the last dregs of winter drip on long after you thought it would be spring already, everything starts to seem dull.
TV often doesn't help, with networks packing these weeks with quieter episodes before moving on to big, season-ending plot arcs.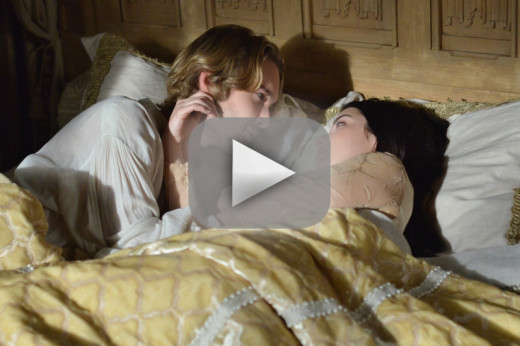 But not Reign! Reign never rests, not for March, not for you, not for anybody! Reign can't power down because it's still cold out and it just wants to eat some carbs - it has too many murders, illegitimate pregnancies and cover-ups to attend to, okay?

Sometimes Reign tries to take itself a little bit seriously, attempting to prove that its characters have substance and truly care about each other. And those episodes are good.

But the episodes when it gives into the full campy glory, the soapy possibilities of a castle filled with murderous queens and skanky ladies-in-waiting and poisons, OH MY GOD THE POISONS... those episodes are my favorites.

And Reign Season 1 Episode 14 is certainly a contender for my favorite campy episode yet. From Kenna's "safe sex, Renaissance-style" lecture to Catherine and Henry bumbling around, dragging a dead body and falling over their own feet like they're the burglars from Home Alone, this episode was a camp masterpiece.

Hell, even the normally painfully earnest Mary opened the episode with one of the most arch and self-aware Reign quotes ever. Everyone was on board!

And we haven't even gotten to the part where Henry basically bangs a duchess to death (well, I guess now we did). This hour touched on every campy soap opera trope in the book - from being pregnant with a married man's child, to covering up a death ineptly - with a fun, stylish touch.

And we seem to have found a promising new castle kook in Olivia, now that Clarissa is gone (?). I had actually thought that Olivia was dead, as well, but nope; just lost and delirious in the woods, being experimented on or eaten or something.

Why did she stab that priest? Was she possessed? Delirious? Just really aggressive about her personal space? I'm eager to hear the surely-horrifying answer!

I'm not sure when Kenna turned into a full-on, completely amoral little monster, but I dug it. And I'm not sure when Catherine went back to being a completely amoral big monster, but I dug that, too.

You've shown enough depth over the last few weeks when you were doing hard time, Queen C. Let's get you back into the poison room where you belong!

Official Reign FashionWatch: 8/10. Though there was a lot of low lighting in this episode that made it hard to truly assess the dreamy outfits (you know, to help everyone with all the sneaking they were doing), the outfits that showed up clearly on screen were knockouts.

Especially the gowns Mary brought back from her honeymoon--though I certainly have no clue how Kenna got the idea that a dress that sexy was virginal-looking.

But amidst all this camp and goofiness, there is one very serious question:

Will Mary and Lola's relationship ever be the same?

Tags: Reign, Reviews