It was the winter finale on Dallas Season 3 Episode 8 and with so much packed into the hour, it's anyone's guess who will survive.
When Pamela saw that video of John Ross and Emma, I really believed she would confront her husband right away. I almost wish she would have. It would have been less painful for everyone.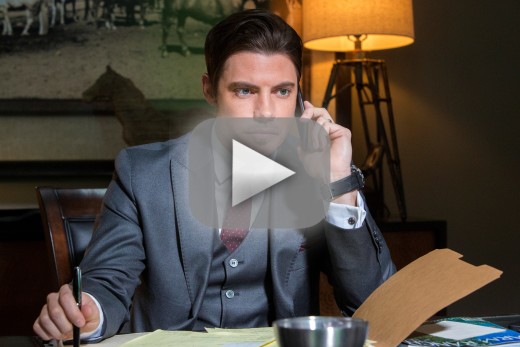 The repercussions of the affair reached farther than anyone expected. First, there was the fallout between Bobby and Ann as he found out she'd hidden important information from him yet again. I couldn't really blame him as he ripped into Annie in this Dallas quote…
What is it that's so hard wired in you that you keep the most important events in your life secret from your husband?

Bobby
His anger was justified but reminding Annie that Southfork is his house probably wasn't going to build any trust between them... and kicking Emma out may have crossed a line, considering the Mexican cartel may want her dead. 
The entire fight sent Annie straight into Harris' arms. Granted, he initiated the kiss but it took her a bit to stop it. Hopefully the shock of that moment will be enough to send her back home for a long talk with her husband. 
The ripple effects of the affair didn't stop there. Sue Ellen held out an olive branch to Pamela but the gesture was far too little and either too late or way too soon depending on your point of view. Either way, Pamela was quick to strike back…
I'm not you. I'm not a weak, sniveling drunk like you.

Pamela
And as if to prove Pamela's words to be true, Sue Ellen immediately went running to find the nearest bottle. 

Pamela was furious and it was no one knew what she would do when she got to that hotel room. John Ross was obviously expecting a gun in that coat. What he got completely blew his mind. Mine too.

Out of all the things I expected, Pamela offering to have a threesome in matching lingerie never remotely made the list. Kudos to the Dallas writers for stepping it up and taking this story of a woman scorned in such a deliciously twisted direction. 

There was a moment there when I wondered if John Ross would actually take her up on it. He looked completely shaken and I thought he might drag Pamela away. Instead, his baser instincts took over and he went for it. Unfortunately, there was another level to Pamela's revenge. 

At first I couldn't believe that she swallowed a bottle of pills. In some ways, she seems so strong but she has lost an awful lot over the last year.

She really believed she'd found her happy ending with John Ross. Perhaps this was just one betrayal and loss too many. But if her goal was to make John Ross understand that his actions have consequences, she definitely made her point.

It all made me wonder if that email would get tracked back to Nicolas. I can only imagine what Elena's reaction will be if it is. 

It was kind of creepy watching Nicolas console Elena about her brother. He was saying all the right things but the look in his eyes was one of anger. 

I had no doubt that sooner or later Elena would come to her senses and realize that the price of revenge was simply too high. Unfortunately, Nicolas isn't about to let her back out. All I could think as he poked holes in her diaphragm was eww.  I guess he wanted to give destiny a hard push in his direction.

Elsewhere, Christopher was ready to go all in with Heather after helping her track down her son. Is it just me, or does Heather's hair get darker every week? I find it kind of distracting.

With the loss of his job, his family, and now a warrant for his arrest, Bo blamed the Ewings for it all and headed to the ranch. 

As I watched the fire erupt at Southfork I couldn't help but be reminded of the fire during the original Dallas season 5 finale. Back then, Bobby came to the rescue of a very young John Ross and a passed out drunk Sue Ellen. We'll see if he can save her once again.

Either way it appears that when Dallas returns on August 18 to TNT, John Ross will be able to remodel. Maybe this time they'll install sprinklers.

Now it's your turn TV Fanatics. Who won't survive the Dallas winter finale?

C. Orlando is a TV Fanatic Staff Writer. Follow her on Twitter.

Tags: Dallas, Reviews