Eeek! It brings me pain to give any episode from Gossip Girl Seasons 1 and 2 a less than stellar rating, but alas... it has happened.
Gossip Girl Season 2 Episode 12 just wasn't that great.
Maybe it was the overwhelming amount of Aaron Rose and his ex-girlfriend or the whole Bart Bass debacle, but "It's a Wonderful Lie" just didn't do it for me.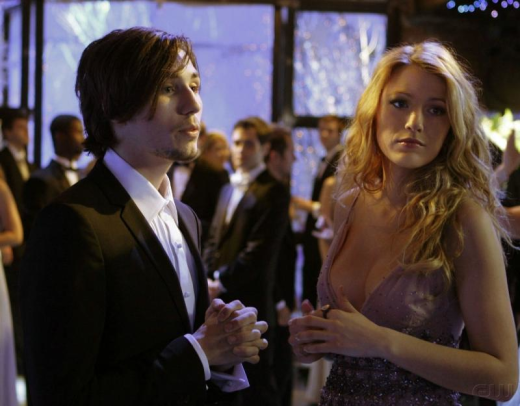 I think knowing that Bart Bass faked his death probably deducted an entire rating point from this episode. Honestly it should have deducted 2, but I don't know that the writers had even decided at that point that it would be a fake-out. Since they also brought us so many wonderful installments of GG I will give them the benefit of the doubt. 
Let me just say for a minute that Gossip Girl season 5 was one of the worst seasons of television (up there with One Tree Hill Season 8.) Mind you this is not a Dair vs Chair thing, but a "we've run out of innovative storylines thing." If you for one minute thought Blair Waldorf truly ever would've had her hair in messy bed waves for her wedding, you are straight trippin'.
But back to season 2. So Bart Bass died except we all know that he didn't so nobody cares the second time around. Lily was about to leave him for Rufus anyway because Lily Van der Woodsen wanted to break Elizabeth Taylor's record for most marriages.
Serena and Aaron ended up double dating with Dan and Aaron's ex-girlfriend Lexi. So much Aaron and Lexi and speculation that Dan was going to bang Lexi the first night. Who cares! Question: didn't that conversation between Dan and Serena about their sex make it sound like they only did it that one time? 
Serena: Shouldn't I give him a heads up or something?
Blair: Oh, absolutely. Guys hate to be caught off guard by sex on the first date.
Onto the Snowflake Ball: Chuck and Blair picked each other's dates and ended up picking the 2.0 versions of themselves. Then when they were arguing, the dates hooked up. Classic C & B. I always loved their little betting games. Poor Dorota would've quit if she had to work for Chuck!

Jenny was understandably mad at Vanessa, but she kind of forgot the part where Vanessa had Nate first. I get it, Nate's a total dish. But teaming up with the mean girls? Please they looked like they were wearing ugly bridesmaid dresses dressed up with wannabe Blair accessories.

I would take Vanessa's dress without the slip and get humiliated any day over being one of the mean girls. Hi have you seen Jessica Szohr's bod? Ain't nothing to be ashamed about there hunnie!

Overall, a very below par episode I thought. But perhaps I'm alone in my opinion. If you need a reminder don't forget you can watch Gossip Girl online at any time.

Were you less than impressed by "It's a Wonderful Lie"?

Leigh Raines is a TV Fanatic Staff Writer. Follow her on Twitter.

Tags: Gossip Girl, Reviews