Sean Daly of the St. Petersburg Times attended the American Idols Live concert in Tampa, Fla., on Sunday, drawing a sellout crowd of 16,534 and creating a spectacle befitting of entertainment's unstoppable machine.
The names, the faces, the nicknames that devoured great chunks of his brain for six straight months were back in in full effect. Elliott Yamin, Taylor Hicks, and, of course, Mandisa. No last name or nickname need apply.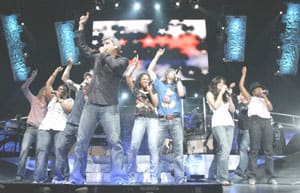 Men and women, boys and girls showed up to this family affair with homemade "Soul Patrol" T-shirts -- the battle cry of Hicks, the show's unlikely champ.
There were also more than a few handmade posters pledging "I Love You Chris - Dead or Alive" (a nod to immensely popular rocker Chris Daughtry).
This one was critic-proof. If the concert, which featured 9 of 10 finalists from Season Five, proved to be as cheesy and addictively watchable as the TV program, it would be a success. After all, no Idol fans bought a ticket to American Idols Live expecting anything more.
The show kicked off with ... Mandisa!
"I'm really just a simple girl looking for a good man," she said before dedicating, Alicia Keys' "If I Was Your Woman" to Season Two Idol winner Ruben Studdard.
Just when I was really enjoying my Mandisa fix, that curly-haired cutie-pie Ace Young showed up, joining her on "I'm Your Angel."
Some of the performers sounded much better live than they did back when they were trying to impressive judge Simon Cowell.
Lisa Tucker
worked the stage like a pro, uncorking a rousing "Signed, Sealed, Delivered" and a sweet "Your Song."
Bucky Covington, making his way through Stevie Wonder's "Superstition," continues to looklike he mistakenly stumbled onstage on his way back from the beer line, but drew widespread applause from adoring fans just the same. Kellie Pickler, sadly, did not perform due to health problems.
Then it was time for Daughtry, who proved he's by far the most talented performer in Idol history. He sent the crowd into a frenzy with a cover of Led Zeppelin's "Whole Lotta Love." The guy can flat-out sing, and his unique heavy-metal wail has a cool trilly effect that sets him apart.
Elliott Yamin, a favorite with cheek-pinching moms everywhere, bounded onstage to help Daughtry with Nickelback's "Savin' Me," but the crooner's old-school singing style, even on his signature "Moody's Mood for Love," came off a tad Star Search-y in the cavernous venue.
After Bucky, Chris, Ace and Elliott hushed out a version of Guns N' Roses' "Patience," Katharine McPhee appeared in a long black dress, showing off genuine superstar grace. She commanded near-silence for her sexy rendition of "Somewhere Over the Rainbow," which earned her a standing ovation.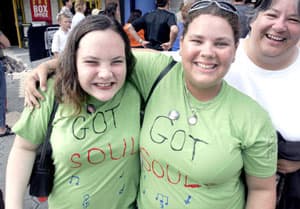 Finally, there was Hicks, the lovable winner who looks like he could be helping you out at Home Depot. He made his entrance in the middle of the crowd singing "Jailhouse Rock." Strumming an electric guitar, and busting out some of his dance moves, he then kicked into Bob Seger's "Hollywood Nights" before treating fans to his signature cover, "Takin' It to the Streets." Hicks may not know the meaning of nuance, but people love him just the same.
When the gang returned for a group-hug encore of "We Are the Champions" and "Living in America," the columnist realized everything he has grown to hate and simultaneously love about American Idol. Bring on next season.
Matt Richenthal is the Editor in Chief of TV Fanatic. Follow him on Twitter and on Google+.