The 2011 Emmy Awards will be hosted by Jane Lynch this Sunday, September 18. In the weeks leading up to the event, TV Fanatic staff writer Dan Forcella will watch every episode submitted by various actors in various categories and present to you his analysis on each contender.
It's the TV Fanatic Emmy Submission Mission, readers, and we only have two categories remaining.  Take a look back at the comedy categories: Lead Actor, Lead Actress, Supporting Actor, and Supporting Actress, as well as Supporting Actress and Supporting Actor in a Drama.  Next up, Outstanding Lead Actress in a Drama:
Kathy Bates is a nine-time Emmy nominee.  Mariska Hargitay has earned eight straight Emmy nominations for her role.  Juliana Margulies has been nominated a total of eight times, including the past two years for The Good Wife.  Elisabeth Moss and Connie Britton have three and two straight nominations for their respective roles.  Needless to say, there is a lot of Emmy history amongst the ladies of this category.
While all of the women up for Lead Actress in a Drama, including first time nominee Mireille Enos, have a shot at taking home the trophy, it seems to be coming down to a battle between Margulies and Moss.  Each had a great overall season. Each is on a highly regarded series in the running for best drama, and each submitted a fantastic showcase episode.
Moss sent in "The Suitcase," the episode of Mad Men's fourth season in which everyone was raving about when it first aired back in the fall, and then most continued to talk about as the year went along.  Aside from the very beginning of the episode, Moss gets to spend the entire time in front of the camera alongside fellow Emmy frontrunner Jon Hamm.  Her character, Peggy, is forced to stay at work all night to help Hamm's Don Draper with an ad campaign, forcing her to miss a birthday dinner with her boyfriend.  She gets so emotional that she breaks up with her boyfriend over the phone, gets into a screaming match with Don, and then breaks down and cries over the events that occurred.  While it's more of a showcase for Hamm, Moss certainly puts forth quite the performance, and would deserve this award any other year.
Unfortunately, Margulies has just as showy a performance in her submission, "In Sickness."  After the first ten minutes of the episode, I pressed pause, and thought to myself, nobody else even has a shot at this.  The emotion that she dischargers as her character Alicia Florick is remarkable.  In just the first few minutes, the character learns that her husband was named State's Attorney, was reminded that he cheated on her with her friend, bought him his own apartment, told him she was kicking him out of the house, and then went home and cried all about it.  Throughout the rest of the episode, she has to act strong as the good lawyer that she is, but then breaks down once more when attempting to tell her children about the separation.  It is some pretty brilliant stuff form Margulies.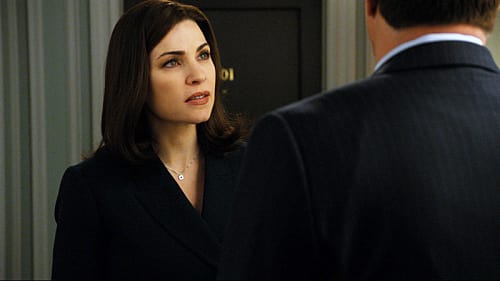 Everyone expected Margulies to win last year before Kyra Sedgwick stole the award from her with a better submission episode.  As one of the favorites again this year, I don't think Moss did quite enough to steal it from her.  Margulies will walk away the champ.
Now that is not to say that the other four nominees do not have a shot.  Each one puts forth a nice performance in their submission, especially Enos of The Killing.  In "Missing" she is pulled away from the boring case that now notoriously was never solved by the end of the first season.  Instead, she and her partner spend the hour looking for her missing son, while Enos gets to play angry, scared, distraught, and relieved all within a 15 minute span.  While the actress didn't show nearly this much emotion throughout the rest of the season combined, her performance here was in fact commendable.
Connie Britton suffers a bit from lack of screen time in the series finale of Friday Night Lights, "Always."  Of all the nominees, Britton says the most without saying anything, as was exemplified by the dinner scene in which her 18 year old daughter explained why it was smart for her to get married at this time.  She also has a heated argument with her husband, a quick stint of crying, and the happy moment when her husband decides to move to Philadelphia for her.  All in all it is a nice performance, but there were too many stories to wrap up in this finale to do Britton justice.
As a general rule, I am not a fan of procedurals, but I can enjoy them from time to time.  For the purposes of this column, I watched two in a row in Hargitay's "Rescue" for Law and Order: SVU, and Bates' "Innocent Man" for Harry's Law.  While I enjoyed the former more as an episode, the latter gave Bates more time to shine.  Her extended screen time, and the fact that she is an Oscar winner, makes me give the edge to Bates over Hargitay for that final spot in the order.
Predicted Order of Finish
1.Juliana Margulies – The Good Wife
2.Elisabeth Moss – Mad Men
3.Mireille Enos – The Killing
4.Connie Britton – Friday Night Lights
5.Kathy Bates – Harry's Law
6.Mariska Hargitay – Law and Order: SVU
Dan Forcella is a TV Fanatic Staff Writer. Follow him on Twitter.