Like all Simpsons fans, I have a special place in my heart for the annual "Treehouse of Horror" special. And as the first one to air near Halloween in over a decade, I was in an even more festive mood than usual for this year's parody-filled shenanigans.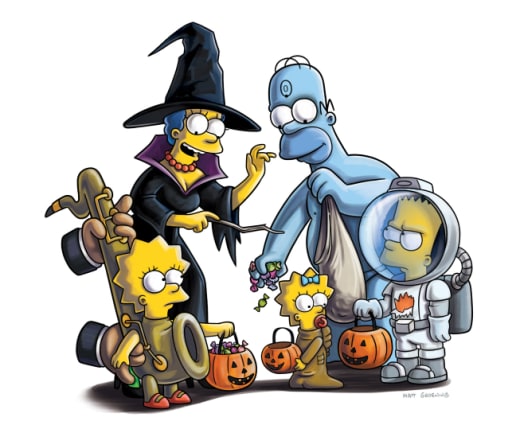 Similar to prior specials, the episode was comprised of three stories, with an intro and a conclusion. The nod 127 Hours and Aron Ralston? Perfect, as Homer became trapped in Candy Eating Peak. It was actually the ideal length and spot for the mockery. If it stole one of the three stories, it would have been extremely disappointing. But as an intro shared with the Switch Witch? Totally adequate.
Up next came "The Diving Bell and Butterball," a weird choice to parody the French film, "The Diving Bell and the Butterfly." But instead of a stroke and blinking, we got a paralyzing spider bite and farting. As much as it was a odd selection to take on, I found it the funniest of the three.
I don't care how juvenile it was, Homer's farting got me every time. His epic poem to the love of his wife? Brilliant. For further communication I will require more beans. I even loved the twist ending where I thought the final spider bite would cure him, only to turn him into a paralyzed Spider-Man.
The middle segment, "Dial D for Diddly," was a forgettable bit about Homer tricking Ned into killing all his enemies through a talking Bible. The only notable parts? Flanders' Wiley Coyote-inspired killing and bringing back Maude Flanders as the Devil's wife. But, man, the latter was a little messed up. Even for a Halloween special. But great on the shock value.
Finally, we ended up with an overdue Avatar parody.  Sure , The Simpsons had previously given us an Avatar intro, but this time around it got the Halloween treatment, as we saw an obligatory return of the Treehouse of Horrors regulars, Kang and Kodos.
Their creative appearance was probably the highlight of the segment, as it didn't do anything funny in parodying the film aside from the leonopteryx taxi and the exo-skeleton within an exo-skeleton.
Overall, it was a fairly disappointing Treehouse of Horror. But, hey, at least I can still laugh at fart jokes.
Eric Hochberger is the programmer of TV Fanatic, so please forgive his mediocre writing. His programming is far better. Follow him on Twitter and/or email him. Just don't request threaded comments. They're coming.