NCIS Season 10 Spoilers: What Comes Next
Steve Marsi at .
The surprising, potentially tragic finale of NCIS Season 9 left lives at risk, the agency's offices destroyed, and 19 million viewers reeling. The repercussions of Dearing's terrorist plot were far-reaching, to say the least.
What can we expect next fall when NCIS returns for Season 10?
With so much up in the air, executive producer/showrunner Gary Glasberg discussed the fate of Ducky, who collapsed in the final seconds of "Til Death Do Us Part," what's next for Tiva, and much more from the finale.
Excerpts from Glasberg's chat with EW below:
On the "true" cliffhanger: "[It's] not the kind of thing you can do every year, but in this instance, we thought it was right and appropriate. We'll pick things up with [Dearing] at the beginning of season 10."
"We'll wrap it up pretty quickly - we've done that before as well. It'll probably get wrapped up in the first episode. And then we'll get into a series of self-contained story lines after that."

On when NCIS Season 10 picks up: "I've been playing with this idea of picking up a few hours after we left off. And then somewhere around the middle of the episode, [jump ahead] and get us back into real time."
"This show has always sort of played itself in real time, so we'll have to figure out a way for us to get us there, and I think I've come up with something."
On the fate of Ducky (and Palmer): "David [McCallum] and I talked about it for months, and he's been preparing for it. He was absolutely 100 percent willing to play along, and we wanted to be very secretive about it and keep it under wraps, and it's really going to give his character a new perspective on life coming back from what he experienced."
"I'm not going to play games with people. People know he signed a new contract and he is coming back, so it'll be more about the way the character evolves and the fact that he's got Palmer there to help him."
"As a medical examiner who deals with the dead, and deals with death on a daily basis, to have an experience like that is significant. And we'll play that throughout the season.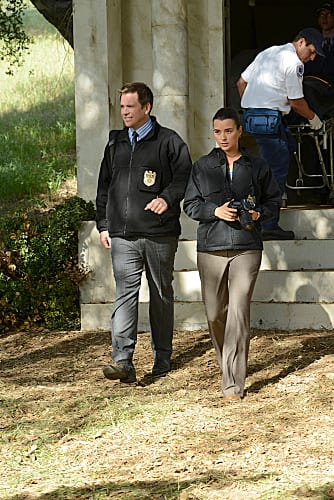 On what's next for Tony and Ziva: "I wanted to make sure there was at least one Tony/Ziva moment in the finale and I think that it provided that. The only other thing I'll say is that it was no accident to put them in the elevator together in the end. So, we'll have to see where that picks up with them in the season opener."
On the team's wedding gifts: "Having this team work together as a family is so important to us and it's really important to the fans. I wanted to make sure that that moment was there - I didn't want to rob people of the chance to experience some of the wedding, even though we weren't going to see our people attending it."
"So the thought was to create that little moment in the squad room where we could see them interact as family members. And I hope it was successful. It was a nice little moment for everybody and the gifts were hopefully indicative of who they are. So I'm glad it came through."
On Scott Wolf's role in the finale: "I was really pleased with the way that arc progressed ... it was done in a way that only someone like Scott could pull off. He started off as sort of the standard villain but developed all kinds of complexity as the season went on into this fantastic moment of redemption for himself."

On the (possible) return of Jamie Lee Curtis: "We started playing around with this mysterious background of her ex-husband, from the get go in Season 9. We'll have to see where it takes us and how it unfolds."
"The beauty of NCIS is that we can step away from a character for a very long time and revisit it down the road. That was very much a goodbye that happened between Ryan and Gibbs, and we'll have to see how things unfold when we might be able to see her again."
UPDATES, 6/11-8/31:
Rocky Carroll (Vance) will be back this fall, having signed a new contract, as will Brian Dietzen (Palmer), who just earned a long-overdue promotion to series regular.
Michael Weatherly, Sean Murray and Pauley Perrette have all SIGNED NEW DEALS for Season 10, and beyond; they came to terms on two-year contracts in July.
Tony and Ziva will open the season trapped in the elevator ... by design.
Glasberg says the show may take things further with Tiva this season.
Robert Wagner and Daniel Luis Rivas will return as guest stars in the fall.
Billy Dee Williams has booked a guest role as a friend of Gibbs and his dad.
Jamie Lee Curtis is not coming back in the premiere or foreseeable future.
A psychiatrist will examine the team in the second episode of the season.
Palmer will step in as acting medical examiner after Ducky's heart attack.
Here are the first photos of the Season 10 opener, "Extreme Prejudice."
The first sneak peek of the episode is out! Check out the new footage!
UPDATE, 9/11:
Aside from obvious relief at the revelation that everyone will be back, what do you think these hints entail for next season? Share your thoughts on the finale, and NCIS Season 10, in the comments!
Steve Marsi is the Managing Editor of TV Fanatic. Follow him on Google+ or email him here.