The CW Releases 2012-13 Schedule, Moves Supernatural & Hart of Dixie
Steve Marsi at .
The CW has revealed its 2012-13 schedule ahead of this morning's upfront presentation.
Perhaps most notably, Supernatural moves to Wednesdays at 9 p.m. following new comic book series Arrow. America's Next Top Model receives a demotion to Supernatural's old slot, Fridays at 8 p.m.
Meanwhile, Hart of Dixie is moving from Mondays at 9 p.m. to Tuesdays at 8 p.m. where it will lead into the new medical drama Emily Owens, M.D. (formerly called First Cut), starring Mamie Gummer.
Beauty and the Beast won the time slot lottery, scoring the Thursday, 9 p.m. position after The Vampire Diaries. The spot was vacated when The Secret Circle was added to the dreaded list of cancelled shows.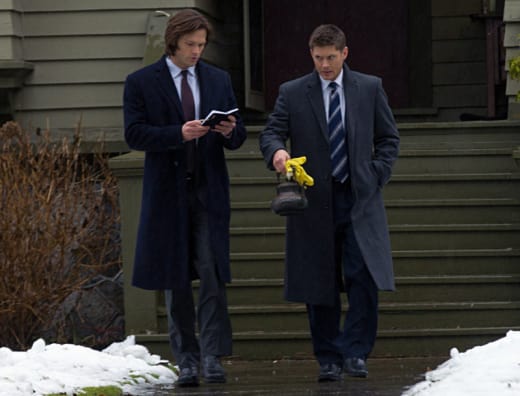 Finally, Gossip Girl Season 6 - the show's 11-episode farewell - will air Mondays at 9 p.m., with the series bowing out this fall. The Carrie Diaries will take over in that slot at mid-season, premiering in January.
Cult, starring TVD alum Matthew Davis, is also set to debut in mid-season, date and time TBA.
The CW 2012-13 schedule, set to begin in October (a month later than usual), appears below:

Monday
8 p.m. 90210
9 p.m. Gossip Girl 
9 p.m. The Carrie Diaries (NEW, beginning in January)
Tuesday
8 p.m. Hart of Dixie
9 p.m. Emily Owens, M.D. (NEW, previously First Cut)
Wednesday
8 p.m. Arrow (NEW)
9 p.m. Supernatural
Thursday
8 p.m. The Vampire Diaries
9 p.m. Beauty and the Beast (NEW)
Friday
8 p.m. America's Next Top Model
9 p.m. Nikita
In addition to The Secret Circle, Ringer, One Tree Hill, H8R, Remodeled and The L.A. Complex will also no longer return. Which will you miss most? Which of the new shows are you most excited for? Discuss!
Steve Marsi is the Managing Editor of TV Fanatic. Follow him on Google+ or email him here.