Really, I don't quite know how an episode of Family Guy that's a vague take on Breaking Bad by having the Griffins sell meth could be so dull.
But somehow "Farmer Guy" managed to pull it off. It was one of the more mediocre and disappointing half-hours of this season.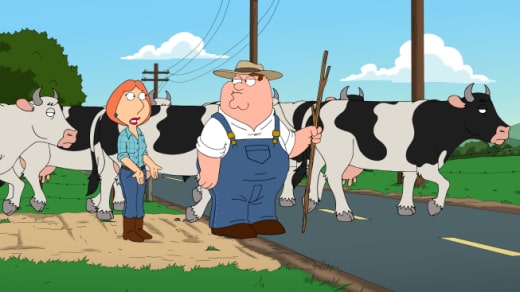 The plot felt like it was a train rider who missed his stop and just decided to keep going until the end of line without any care for where they are actually going.
There's something comical in the premise of Peter Griffin, meth kingpin, no? He'd probably find a way to botch it - he's no Walter White. Yet still the story never went nowhere interesting with it. Suddenly Quahog was this dangerous place, the family had to move... and then a totally random tornado caused them to finally explore their basement, where they discovered the meth lab.
They became successful meth dealers without any explanation or showing of any of the process of how they got there at all. Therefore, I had no reason to care. If the story is going to do whatever it will, why should I expect anything?
The humor from the episode came from mostly just random asides. Brian getting the wrong impression from thinking that the family 'sending him off to a farm' was actually code for them killing him, which caused him to pull out a gun and take Stewie hostage. That was one of the better moments. Chris bringing in a basket of eggs from 'his favorite chicken' with one chick hatching that looks like Chris was a particularly dark-yet-comic sequence. Both of them had no implications from it, they were just swiftly abandoned. They were as much cutaway jokes as the actual cutaway jokes. 
Really, when the best humor is all but disconnected from the actual plot of the episode, that's a bad sign. I didn't see any real reason to care about this, and why should I? If any serious work was put into this episode, it was wasted.
Check out our Family Guy quotes page for the best lines from this episode.