There's a good chance that when you expected to see Family Guy's latest episode "Save the Clam" you instead got Bob's Burgers. Worse things have happened. However, this mixup was due to a NASCAR race running way over, so everything got pushed back about 25 minutes or so for Eastern and Central time zones. So if you recorded American Dad then you got to see this episode with the death of Horace, the long-time bartender of The Drunken Clam. The episode is largely a pedestrian affair, so if you miss it, it's not the worst thing in the world, but it at least is a decent half-hour, even if it doesn't go anywhere outside of the character death.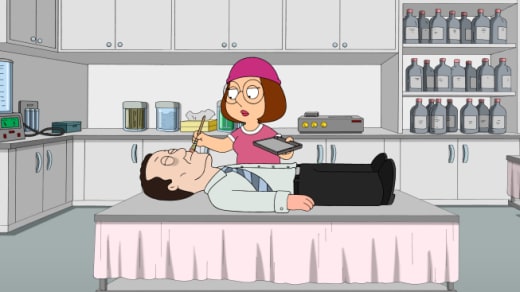 It all started with softball, which was all rather coincidental due to some real-life events. Seth MacFarlane may have recently stolen a joke from baseball player and Twitter humorist Brandon McCarthy, and this episode starts with Horace getting hit in the head with a hit ball, which is the same thing that happened to McCarthy last September.
The Drunken Clam being shut down due to Horace's death led to to some funny drunken antics between the main group of Peter, Joe, and Quagmire. The story didn't actually go anywhere with their troubles, and it concluded on a moment of "Jerome ex machina" when he buys the bar to save it from being destroyed by the bank. There were some funny situations, and the standard cringe-worthy stereotypical jokes to go along with them. Hopefully this all means that Jerome will be showing up more often - I enjoyed his first appearance a few seasons ago, and Kevin Michael Richardson wouldn't hurt for some more paychecks, what with the rumored cancellation of The Cleveland Show.
The b-plot, where Meg gets a job at the funeral parlor where Horace is buried, doesn't really go far either - Chris harasses her there, and winds up stealing a body, which then leads to Chris having to act as the body at the man's funeral. So naturally that leads to him having to have his face transplanted on to someone else in a smash cut joke at the end because the man was an organ donor. That was rather hilarious. Meg also got some great lines in. Mila Kunis clearly relishes getting to say absurd things as Meg.
This was a rather pedestrian episode of the show, not a classic but not terrible. If your DVR didn't record it, you didn't miss much. Plus, it's online at this point and Adult Swim will air a rerun a week later anyway, but don't stress your self out. Check out the funny lines on our Family Guy quotes page and enjoy your life. I demand it.