With Orphan Black Season 1 hitting DVD this week, a new slew of television fans will hopefully become familiar with this fast-paced, incredibly-acted BBC hit before Season 2 kicks off in the spring.
And in anticipation of those forthcoming 10 episodes (along with the cast's appearance at Comic-Con), creators Graeme Manson and John Fawcett spoke to Entertainment Weekly about what viewers can expect when Sarah Manning and her similar-looking company return in 2014.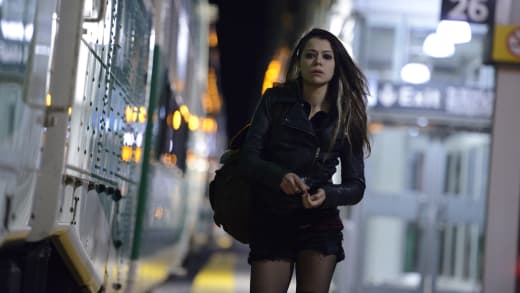 "We definitely will be continuing looking at bonds and themes of motherhood in all its guises that we show, as well as testing and stretching the bond between our three main women," Manson said, adding that "Sarah's going to be on the run," while Fawcett teased:
"She's really freaked out because she's got bad guys after her."
Don't expect any time jumps, either, as the Season 2 premiere will pick up mere hours after the events that concluded Season 1: Kira and Mrs. S. are gone and Sarah is in a panic.
Will we meet more clones? Probably. What about answers to questions such as Kira's ability to heal and Cosima's illness? Said Fawcett:
"These are obviously questions that everybody is going to want answers to. We're going to get answers — I'm not sure how quickly we're going to get answers. Part of the joy of the show is letting things mysteriously unfold. The fact that people don't really know where the show is headed? We like that."
NOTE: TV Fanatic will be giving away a copy of the Orphan Black Season 1 DVD next week. You cannot miss this show.
Matt Richenthal is the Editor in Chief of TV Fanatic. Follow him on Twitter and on Google+.