Stephen Amell graced the stage of the Chelsea Lately last might, disclosing a few things that might be surprising to viewers of his hit show.
The Canadian-born actor plays Oliver Queen as a little shy with the ladies, but he tried charming the pants off Chelsea Handler by immediately launching into an experience he recalled from over two years prior when they passed each other on a hike in the canyons right after he moved to Los Angeles.
Wasn't there just a little bit of chemistry there, Amell joked with the host?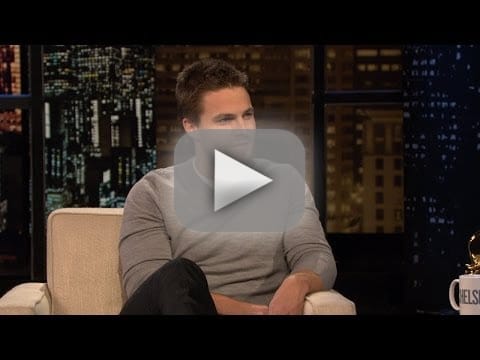 This served as the perfect launch into the discussion about his personal life.
Yes, ladies, Stephen Amell is married, and his wife Cassandra just gave birth to their daughter, Mavi, three weeks ago.
Amell doesn't seem concerned about parenting at this point, stating confidently: "It's awesome. What do you say? You just take them home. Make sure they're fed, sleep, changed. That's it! Parenting stuff is easy."
At some point in his life, Amell determined that "being a spin instructor would have some intrinsic value" and it's spinning that got him his first professional acting job on Queer as Folk.
Despite having played gay characters and starred on a predominately gay soap, Dante's Cove (on which he was the only straight character and, therefore, the villain), Amell assured the audience he is straight. Handler's attempt to let men know not to hit on him went unheeded.
"People can hit on me if they want to," Amell declared to wild cheers from the audience.
Elsewhere... who knew Amell had his own winery? He and his buddy decided to start Nocking Point after drinking a couple of bottles one night. According to their website, their first wine was appropriately called "Vigilante" and it featured a beautifully drawn arrow on the label.
Amell chatted with Handler about their newest wine, a pink rosé, "Apex." He joked that they wanted to call it, "Our Pink Wine for Dudes." Their second wine features Amell and his buddy on high-fiving in the street. According to Handler, "It makes drinking rosé seem very masculine." Indeed!
Great stuff. Arrow Season 2 Episode 5 airs tonight at 8 p.m. on The CW.
Carissa Pavlica is the managing editor and a staff writer for TV Fanatic. Follow her on Twitter.