The Simpsons Review: One Flub, No Sub

Teresa Lopez at . Updated at .
Marge probably captured the essence of tonight's episode when she told her son the following:
"Bart sweetie, this is an opportunity for you to turn things around...yet again. And I believe in you...yet again."
The Simpsons Season 25 Episode 7 felt like a rerun, even though it was a new installment. Most of the events have taken place before and with greater comedic effect. Although there were some amusing The Simpsons quotes.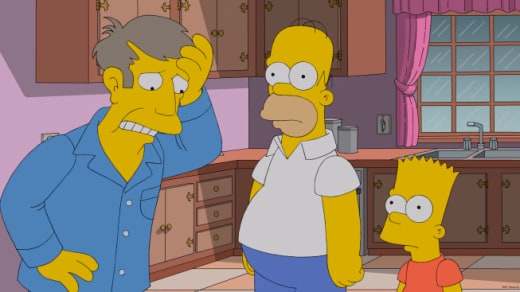 Bart has tried to clean up his act before, but this time it was for a trip on a naval submarine.
His difficulty staying good has been the subject of much more hilarious past episodes, such as "Bart's Girlfriend." In that outing, Bart's bad behavior was wonderfully contrasted with Jessica Lovejoy's even more hellish attitude.
What was original about this version was Bart's revenge on Skinner. With Homer and Agnes Skinner's help, Bart nearly convinced Skinner that he murdered his mother, a rather macabre means of vengeance.
It definitely draws on some common themes between the creepy mother and son relationship, but the reveal was kind of a let down.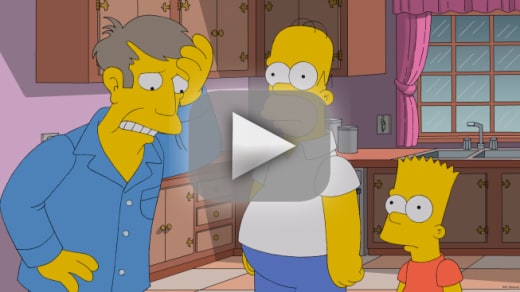 More amusing was the continuation of Skinner's cowboy fantasy that took a weird turn when his outlaw self entered a saloon full of scantily clad Agneses. *shudder*
The B-pot revolved around another repeated storyline: Krusty is broke again. Only this time he decided to license out his show to foreign markets.
While this move provided a wonderful opportunity to lampoon other popular shows who have done the same, the joke devolved into a bunch of unfunny stereotypes about foreign countries. A Jamaican Itchy and Scratchy end up "smoking" and "toking" instead of "fighting" and "biting." 
Funny, right?