Out of all of 2013's many gripping love stories (Bey and Jay, Kim and Kanye, Adam Levine and whatever model happened to walk by him on the street that morning), the most engrossing for me, personally, was the tortured tale of Dan Harmon's reconciliation with NBC.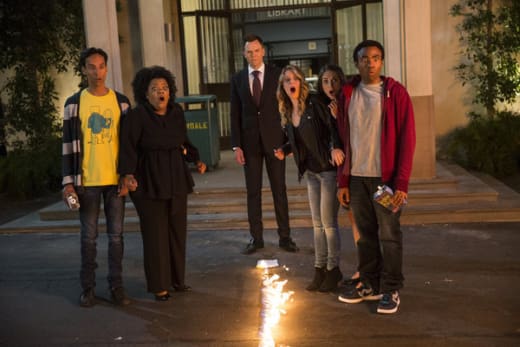 Both parties spent the past year denouncing each other like spurned lovers straight out of a Harlequin paperback, so their eventual reconciliation (and that Chevy Chase cameo!) was almost enough to make me believe in love again.
Two soul mates, reunited against incredible odds! And we didn't even have to wait for a decade and a Kickstarter campaign to make it happen!
Like all love stories, the tale of Dan Harmon and NBC's reconciliation needed a villain - and, as is clear after just a few minutes into Community Season 5 Episode 1, that villain is definitely Community Season 4 (a.k.a. the "gas leak year," as noted in one of the episode's many sharp, thrilling, and totally tossed-off Community quotes) and those who got behind it.
I was one of those villains, defending the 'Franken-Community' at times last season. And there was some logic to that decision - the Greendale 7 (or however many we're down to now) are such snappy, vibrant characters, played by such insanely talented comedic actors, that even a weakly written Community has its pleasures; it can outpace the best episode of many limper network comedies.
But moments into this season premiere, the difference between a Harmon-helmed Community and a Harmon-less Community stood out like the difference between slow-roasted artisanal coffee and Sanka (Sanka that had also been trod upon by a lost family of elk, searching for fresh grazing pastures).
I had been fooling myself. There's no faking something this genuine, this high-velocity, this weird, and I was wrong to accept any substitutes. Welcome home, Community.
The new season of Community is, thus far, brutally funny and also pretty damned brutal - from Jeff Winger's failure as a legitimate lawyer, to everyone's similarly bleak post-Greendale trajectories (Relaxarex!), to Community Season 5 Episode 2's assertion that Greendale's teachers, just like Greendale's students, are there because they completely failed their adult lives.
The show has always pulled no punches about the bleakness of the gang's lives (and life in general), but the darkness was especially notable in these two half hours, with only a few dim sources of real hope. Just like real life!
This double-barreled season premiere event was definitely not crafted to reel in new viewers. Episode 1 unspooled at break-neck pace, breaking down the various failures that have befallen our beloved former Human Beings, and unveiling Jeff's morally ambiguous legal scheming, at dizzying speed. It was poised, hilarious, and probably made as much sense as a set of poorly-translated air conditioner repair manual to non-fans.
Episode 2 offered more potential entry points for newbies, with Breaking Bad's Jonathan Banks as a very Mike Ehrmantrout-like criminology professor, and Danny Pudi doing some truly stand-out work on Abed's Nicolas Cage-induced breakdown (if we have a common American culture at all right now, it's probably at least 35% composed of Nicolas Cage movies).
But it was still an in-joke-laden affair aimed at the insider, the fan who has spent more moments than he/ she/ they/I would like to admit dreaming of this moment, and not concerned with viewers who might wonder why people with community college degrees would all be so eager to re-enroll in community college.
But Community is not here, as they say, to make friends. Community has lived through one of the most improbable (and highly publicly visible) dramas of any network show in recent memory - and, even more improbably, it has arrived back on our televisions for another season.
At this rate, "six season and a movie" would hardly be the most far-out thing that this show has achieved. So I look forward to a season filled with darkness, pain, and jokes about Van Damme. When you come back to life, you get to do it on your own terms.
Was this season premiere everything you've been waiting for? Do you dig Jeff as a teacher? Do you kind of want to take that Nicolas Cage class?