Good old fashion suspense. No technology in the sky. It's feet on the ground that make the difference during the Cold War.
People's lives are constantly in danger. There's no hiding behind a desk when human intelligence makes the difference between life and death. It was a person who gave the Soviets the trigger design for their nukes, it wasn't stolen by hacking a computer system.
In The Americans Season 2 Episode 2, the Jennings dealt with the aftermath of Emmett, his wife and daughter's deaths. Elizabeth was understandably upset and intensely concerned that they were also compromised. While was the hawk protecting the homestead, Phillip went into the field to see if Emmett's asset, Frank, was responsible.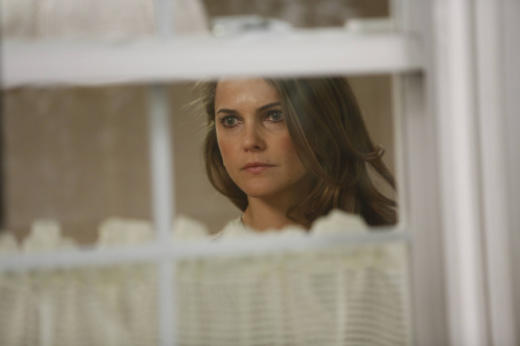 This was an incredibly tense hour of television.  A single wrong step or touching the wrong metal box under the floor board, could cause serious injury or even death. Phillip was reminded of that when he searched Frank's house. I was engrossed in Phillip's actions from start to finish.
Phillip's actions while checking out Frank were nerve-wracking to watch play out. It wasn't about getting the job done fast or moving the story along. The Americans takes the time to build up the suspense. When Phillip was shocked, I was too. Though, mine was of the harmless surprise nature, rather than physically getting an electric shock. 
Phillip made a mistake, but he recovered well. He's grown into such a natural manipulator and liar that it didn't take much effort to convince Frank to trust him. In this case, Phillip had the truth on his side and the information to persuade the asset to continue. It wasn't clear if the Soviets would be able to get the settings from the factory in time or not. I guess we'll find out next week. 
Frank was saved as an asset and the Soviets gained another when they had a walk-in, Bruce Dameran. Only he'll certainly be a short-lived one. When Nina told Arkady about Stan forcing her to betray her country, I wasn't sure what would happen. Stan was responsible for shooting her friend in the head after all.
Nina seems to be having either second thoughts or has decided to play both sides and try to take the best deal she can. She gave Stan the intel on the walk-in and didn't put it in her report to Arkady. She mentioned all the sexual acts that she performed, but didn't give up everything. And she had no information from Stan to give to Arkady.
It will be interesting to see what happens with Dameran. If he's picked up by the FBI, will Arkady put together what happened? Or, perhaps, the FBI will try to flip Dameran and use him to feed the Soviets bad information. I'm not sure, but next week's episode is titled, 'The Walk In," so I'm guessing that will play out sooner rather than later.
Phillip convinced Martha not to apply for a promotion outside of the counter-intelligence department. He was pretty convincing in his reasons, but how long before she starts to get suspicious? He's gone all the time and pushing her to report on her boss. She's easily manipulated and really loves Clark, so maybe she'll just remain blind to what's going on.
The disparity between Martha and Nina is huge, but when it comes down to it they are both being used. It's just that Nina knows it and has taken as much control over her circumstances as she can, while Martha's ignorant of what's really going on and just being played. Whenever they are on screen, I can't wait to see how they will interact with their bosses or lovers.
This hour was a mixed bag of events. Overall, it played out slowly, but there was so much going on. At the end of the episode, it was hard to believe they fit in so many different stories and intertwined them seamlessly. Even Elizabeth's family time and then emergency call to help the new recruit with her Congressional aide fit in well.
The Cold War spy world is an endless back and forth on both sides. And it will be a race to see who figures out the truth first: Paige or Martha!
Who has Nina's loyalty?
Carla Day is a staff writer for TV Fanatic. Follow her on Twitter and on Google+.