Modern Family Season 6 Episode 4 Review: Marco Polo
Leigh Raines at . Updated at .
The best part about Modern Family is that there are so many different situations going on, that every any family is bound to relate to at least one of them.
On Modern Family Season 6 Episode 4, things got very "National Lampoon's" when the Dunphys were forced to stay at a motel in one room, while their house was cleared of mold.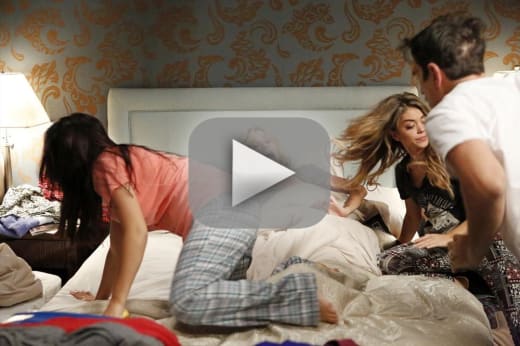 Who hasn't had that disastrous family vacation where everyone is piled on top of each other and cramping on each other's style? I know I have! Granted I am the youngest of 5 siblings, so these Dunphys don't even know how crazy it can really get!
Since Phil is Phil, he tried to turn lemons into lemonade. With the family displaced for a few nights, he booked everyone into one room hoping that it would lead to a bonding experience. Instead it just led to chaos. 
Claire: Haley I need the wifi corner get down.
Haley: Ugh! I need Instagram to know there's still beauty in the world!
There was a very sensitive pack of dogs staying next door. Luke was forced to sleep in the bathtub. Haley was deprived of Instagram. Then Luke accidentally set off a whole bottle of "Sex Grenade" body spray that he got from the divorced dads club in the motel.
Did you see how fast Phil jumped on that Sex Grenade? How could the kids not know that everything he does, he does for his family?!
Everyone got a little overwhelmed and Claire tried to secretly book herself into a new room. When Phil caught her, the kids decided to follow Claire anyway. It kind of defeated the purpose of her wanting some peace and quiet.
I wanna hear your point but right now this magic juice is gonna help mama turn that bathtub into a swim up bar.

Claire
I'm glad everyone realized the error of their ways and made it up to Phil with a big game of Marco Polo in the end. Watch Modern Family online to relive that sweet moment!
While the Dunphys worried about their mold situation, everyone else was focused on the final football game at the high school. Cam coached a winning season and wasn't about to give up his superstitious traditions for the last game. When Mitchell realized he could be more supportive and showed up to the game, Cam realized that Mitchell might just be the jinx to his winning streak. Uh oh!
More important than a possible break in the perfect season, was Manny experiencing his first heartbreak. A senior named Sam with a Mustang was dating Manny just to make her ex-boyfriend jealous. What was sad for us, turned out to be a great bonding moment between Jay and Manny.
The only thing that irked me about this episode was that Lily was trying to tell Mitchell she was being bullied in school and it got completely glossed over. Did anyone else notice that?