The Mindy Project Season 3 Episode 4 Review: I Slipped

Mary Kate Venedam at . Updated at .
Apparently some secrets are not kept in the bedroom -- well at least not for Mindy and Danny. 
On The Mindy Project Season 3 Episode 4, Danny decided to try something new in bed, but when Mindy wasn't a fan of it, the best thing for Danny to do was lie, lie, lie. 
This week's episode was the weakest of the new episodes this season, and I didn't enjoy it nearly as much as the rest of the season. It felt more ridiculous than other stories on the show, which is saying a lot.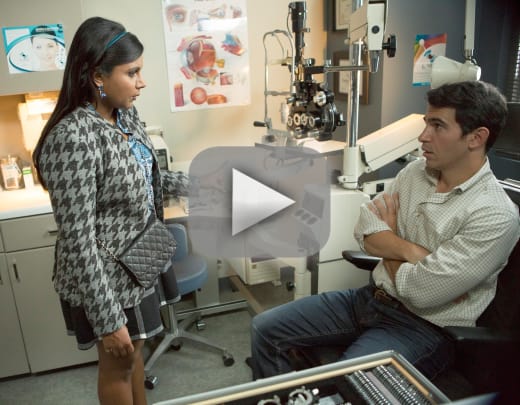 I wasn't a fan of the Danny and Mindy story, it just wasn't a story I particularly cared for, overall. The B and even C storylines were more enjoyable in some aspects than the new couple's story. 
Peter had another strong episode. Whether it was giving Mindy advice or walking around without eyebrows, he is always good for more than a few laughs.
But for a second, I did think that the eyebrows were just poorly covered -- and not with Band-aids. Thank god I did a double take, or else I would've been criticizing the make-up department.
Morgan's attempt to "Parent-Trap" Peter and Jeremy was another funnier scene from the episode. It may have backfired a bit (pun intended), but it eventually got them to call a truce about the whole Lauren-debacle.
Are you "Parent Trapping" us? Are you the Lindsay Lohans?

Jeremy
There weren't all bad things happening with Danny and Mindy. Probably the funniest part of the episode was Mindy during her hallucinations. Going back and forth from Danny's and Mindy's perspectives was highly entertaining, and probably the most I laughed throughout the whole episode.
Now, let's talk about Danny. How is it the likeable grump has become so much more unlikable these last two episodes? Where's the Danny who was Mindy's friend and not the horny teenager? I just want the Danny Castellano, who was both mean and sweet all at the same time. Is that too much to ask?
Though one thing I have found funnier in recent episodes are all of Danny's religion jokes because they are over exaggerated. But because Danny believes so whole-heartedly about his religion, his defensive comments and retorts about his religion and relationship with Mindy always make me laugh.
Let's leave God out of this. I told him you were my assistant.

Danny
The ending of the episode was just like the last three, Mindy and Danny in bed. I think it's time that they retired this ending. At this point, it's getting old, as funny as it was for, what looked like, a little 50 Shades of Grey happening between the two with a little whipped cream in the middle. 
Any more endings like this and it'll be more overused than it can possibly be imagined.
Is anyone else noticing a difference in Danny's personality? Are you happy that Jeremy and Peter have made up? 
If you want to see some more enjoyable Danny and Mindy moments, make sure you watch The Mindy Project online now via TV Fanatic.
Mary Kate Venedam is a staff writer for TV Fanatic. Follow her on Twitter and on Google+.